Now that school has started, we at College Info Geek will be reviewing some of the gear we use in order to help students optimize the flow of how they work. Today I'll be reviewing the Synergy backpack from Swiss Gear, which has become hands-down my favorite way to carry my stuff.
The first thing I noticed after a few days of using this backpack is that a ton of people have it. It's $60 on Amazon, which is a little pricey, but apparently it's worth it! All these people have must have good sense, because this backpack is stellar. Firstly, it's from Swiss Gear. The name alone should tell you something about the durability and functionality. These are the two main things I'll get to in this review, and I'll also talk about what I carry around during my day.
Durability is a huge factor to consider when buying a backpack, particularly one that's going to be used to carry books. After loading the Synergy up and carrying around for a few days, I can safely say that it will be able to take all my abuse without much trouble. The straps are sewn to the pack very well, and the carrying handle is supported by a rubber-coated steel cable which is bolted and sewn to the top. The zippers are large and seem to be very well made. Even the mesh pockets on the side are padded and exude quality.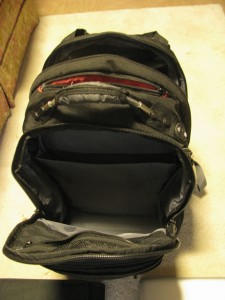 The Synergy backpack's most striking feature, however, is the number and sheer usefulness of its pockets. There is the standard large back compartment, which contains a laptop pocket for up to 15.4″ laptops, as well as a small mesh pocket for small items. One thing I like about this back compartment is that Swiss decided to put the laptop pocket against the front side instead of on the back side. This allows me to put in my accordion folder at the back, which keeps my Macbook Pro safely in the middle.
The backpack has another pocket nearer the front that is almost as large as the back compartment. Luckily, Swiss included two layers of fabric and a large amount of padding between these two pockets. Many backpacks I've owned in the past have separated their two large pockets will a single layer of fabric, which my books would promptly tear apart. This isn't an issue with the Synergy. In this second large pocket, I keep my iPad, my refillable notebook, and the workbook for my speech class. All of my other books are either in Kindle or PDF format and I access them on my iPad.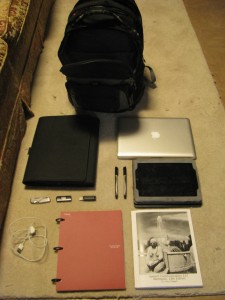 In between the two large pockets is my favorite feature of the backpack; a small, well-padded pocket that's only about 8 inches deep. It includes a cell phone pocket of its own, and is an awesome place to store small items. I usually put my iPod, iPod charger cable, pocket knife, and a few USB drives in it. This pocket saves me the time I used to spend digging to the bottom of my past backpacks for these items.
The Synergy includes three more front-facing pockets of decreasing size; I keep my Mac charger in one, my pens, pencils, and calculator in another, and some OS installation CD's and gum in the smallest one. There are also two long, narrow pockets on the sides that zip up, and a mesh pocket over each. I use the mesh pockets for water bottles.
Swiss also took care to make this backpack very comfortable. The back is well padded and includes quality lumbar support. The straps are also very comfortable and supportive. Swiss also elected to do away with the waist strap on this model of the backpack, which is a welcome omission in my book. I wanted a pack with the least straps and clips hanging off of it as possible.
All in all, the Synergy backpack is my definite best-buy in the backpack department. I challenge you to find one that tops it!