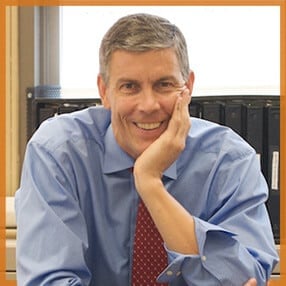 Hey guys! I'm massively excited about this episode and want to let you jump right in, so I'll make this summary brief; today I have the huge honor of talking with Arne Duncan, the U.S. Secretary of Education, on the podcast.
Secretary Duncan's main message throughout our conversation? Graduate, graduate, graduate. He is laser-focused on improving graduation rates all over the country, both through initiatives to increase student aid and programs to help students perform better academically.
Beyond graduations rates, though, the conversation touches on picking a college, paying for school and dealing with student debt, and we also talk a bit about Secretary Duncan's journey to becoming a member of the President's Cabinet (which included a few years as a professional basketball player).
I'm incredibly grateful for the opportunity to conduct this interview; seriously, even as I'm writing this, it's still hard to believe this episode is a reality when this podcast started with me rambling about exercise from my tiny apartment in the middle of Iowa.
Enjoy the episode!
Things mentioned in this episode:
Want more cool stuff? You can find all sorts of great tools at my Resources page.
If you enjoyed this episode, subscribe to the podcast on iTunes! It's easy, you'll get new episodes automatically, and it also helps the show gain exposure 🙂 You can also leave a review!