Resistance is the enemy. Resistance can ruin our chances to do the things we care about most without us even noticing it's there. Are we blind? No, we're too busy looking at Failure.

Failure is an unreliable, yet lovable friend, who disappoints us frequently but every once in a while ends up teaching us something we desperately need to know. Failure is the red herring in our mission for success — easy to blame, but loyal enough to take the insults in stride and show up again when you need them the most.
Resistance works in the shadows to keep us where we are, whispering bad things about lovable Failure to us while we sleep. We'll wake up angry at Failure again, not even sure why we're thinking of them in the first place.
At least, that's how I picture things after reading The War of Art, by Steven Pressfield.
Featured Book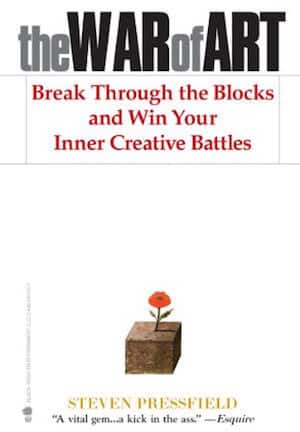 In The War of Art, Pressfield personifies Resistance, explains how they work, and instructs us in how to meet them in combat. Usually a writer of fiction, Pressfield pulls his understanding of the creative process from personal experience, including the resistance he felt writing his first nonfiction book.
If you've struggled to work toward what you care about, creative world or not, give this episode a listen and consider checking out The War of Art for yourself.
Enjoy!
Things mentioned in this episode:
Want more cool stuff? You can find all sorts of great tools at my Resources page.
If you enjoyed this episode, subscribe to the podcast on iTunes! It's easy, you'll get new episodes automatically, and it also helps the show gain exposure 🙂 You can also leave a review!
Here's an image for sharing this episode on social media: