If you've ever went looking for study advice on YouTube, you've probably run across a video called "Study Less, Study Smart."
This video is a recorded lecture by Dr. Marty Lobdell, a former psychology professor at Pierce College, and has almost 500,000 views. It's one of the most well-known study advice videos that's come out in the last few years.
As a student, I often tried to watch it – but since it's an hour long, my attention would wander. While Dr. Lobdell's teaching style is engaging, the context of YouTube doesn't always lend itself to videos of that length.
Since I've seen lots of other students say the same thing about the video, I wanted to create a distilled version of it for those in a hurry. So, in this week's video, I've attempted to cover 80-90% of the most useful, actionable advice from Dr. Lobdell's lecture in just 6 minutes.
You'll also find my personal notes on the lecture linked down in the video notes section!
If you're unable to see the video above, you can view it on YouTube.
Looking for More Study Tips?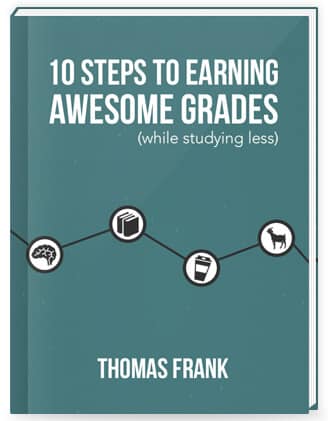 If you want tips beyond this summary, I've got you covered. I just finished writing a 100+ page book called 10 Steps to Earning Awesome Grades (While Studying Less) and I'd like to share it with you for free.
The book covers topics like:
Defeating procrastination
Getting more out of your classes
Taking great notes
Reading your textbooks more efficiently
…and several more. It also has a lot of recommendations for tools and other resources that can make your studying easier.
If you'd like a free copy of the book, let me know where I should send it:
I'll also keep you updated about new posts and videos that come out on this blog (they'll be just as good as this one or better) 🙂
Video Notes
By the way, if you're not familiar with these note-taking styles, check out my video on the 5 best method for taking notes!
If you liked this video, subscribe on YouTube to stay updated and get notified when new ones are out!