What's the best way to take lecture notes?
In this video, I'll go over five of the best note-taking systems out there. We'll also dive into the strengths of each, in order to figure which is the best for:
Organizational structure
Ease of studying
In-the-moment learning
…and more.
These methods really run the gamut of efficient ways to record data, so check out each one and ask yourself which would suit your particular classes the best.
If you're unable to see the video above, you can view it on YouTube.
Looking for More Study Tips?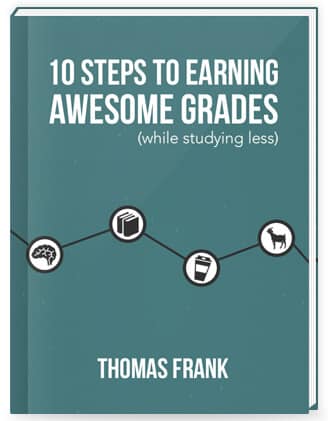 Effective note-taking can help you learn much more quickly than normal, but it's only one step to earning great grades.
If you want tips beyond that, I've got you covered. I just finished writing a book called 10 Steps to Earning Awesome Grades (While Studying Less) and I'd like to share it with you for free.
The book covers topics like:
Defeating procrastination
Getting more out of your classes
Taking great notes
Reading your textbooks more efficiently
…and several more. It also has a lot of recommendations for tools and other resources that can make your studying easier.
If you'd like a free copy of the book, let me know where I should send it:
I'll also keep you updated about new posts and videos that come out on this blog (they'll be just as good as this one or better) 🙂
Video Notes
After you've picked your favorite note-taking system, stay tuned. Next week I'll be bringing you a countdown of hacks you can use to make your notes even better.
If you liked this video, subscribe on YouTube to stay updated and get notified when new ones are out!