The New Year has arrived, and with it thousands of half-hearted promises to "go to the gym more often."
How often that is, exactly, many will never determine for themselves before the answer decides it would like to stay within the single digits.
But that's exactly the conundrum we find ourselves in, year after year. In the rush of hanging up a new calendar, we get excited about all the possibilities the future holds, we commit to various things designed to bring about a better version of ourselves, and we soon fall back into roughly the same pattern we were already in to start with.
It doesn't have to be this way. We can truly change our lives with the proper planning and commitment. Ambition alone can occasionally work, but it's not as reliable if we don't have a lot of time on our hands.
The one thing we need to avoid, if any of these is to work, is taking on more than we can handle. Overwhelmed is probably one of the most common emotions these days, and that's not exactly inspiring.
So, while we think up all the things we'd like to see happen this year, let's add a counterintuitive goal to not get ahead of ourselves with goals. With this, the goals we keep anyway will become more important and more achievable.
Oh, and here's an example of how my notebook habit-tracking system works, for those interested.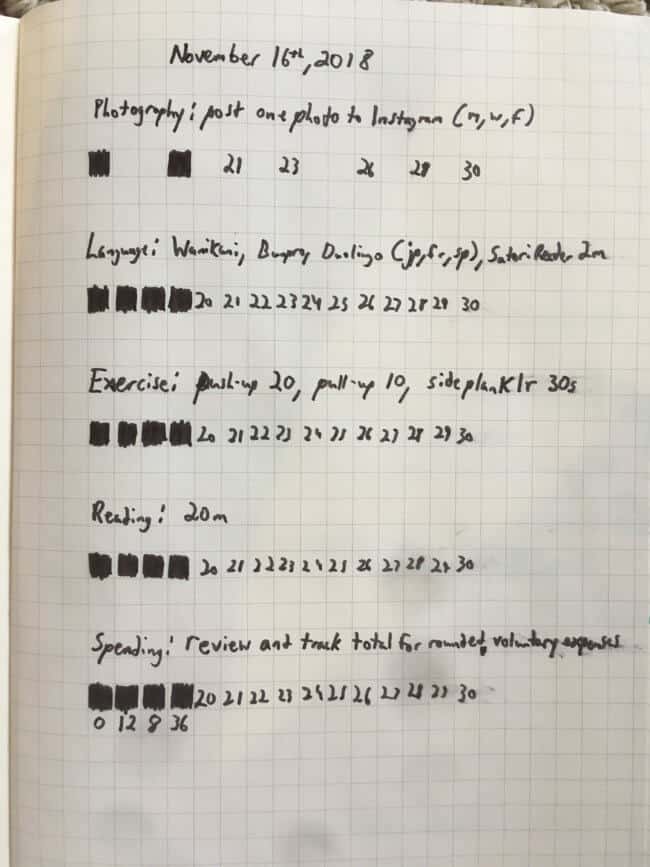 Prefer reading to listening? Check out the accompanying blog post on making better New Year's resolutions.
Things mentioned in this episode:
This week's episode is sponsored by:
Brilliant: Accelerate your learning in math, science, and computer science. Start learning for free at Brilliant.org/CollegeInfoGeek — and if you're one of the first 83 people to use this link, you'll also get 20% off your subscription.
Audible: Get a free audiobook download and a free 30-day trial by going to audible.com/CIG or texting "CIG" to 500-500 on your phone.
Other things we mentioned in this episode:
Want more cool stuff? You can find all sorts of great tools at my Resources page.
Timestamps:
0:02:18 – Announcement: Thomas' productivity course on Skillshare
0:05:11 – Figuring out the things you really want to accomplish and acting on them
0:20:20 – Sponsor: Audible (Listening to audiobooks)
0:23:49 – Sponsor: Brilliant (Learning problem-solving skills)
0:25:38 – Figuring out the things you really want to accomplish and acting on them (continued)
0:33:00 – Being realistic about your limitations
0:39:27 – Recap and conclusion
If you enjoyed this episode, subscribe to the podcast on iTunes! It's easy, you'll get new episodes automatically, and it also helps the show gain exposure 🙂 You can also leave a review!
Here's an image for sharing this episode on social media: