The start of a new semester is a time of transition.
Usually, this transition is accompanied by high levels of motivation; you're excited to start your new classes, meet new people, and be done sitting in a cubicle during your summer internship.
A few weeks down the road, though, it's just as Agent Smith said:
"It is inevitable, Mr. Anderson."
Inevitably, your high levels of motivation will wane as the semester wears on. That textbook you were so gung-ho to read during the first week will now inspire feelings of utter dread when you even think about opening it.
However, with some good planning at the beginning of the semester, you can mitigate this problem. Sure, you'll lose some of that initial motivation – but that doesn't mean you have to run out of steam completely.
In this video, we'll look at ways to set up good study habits in order to remain as motivated, and generally on top of things, as possible during the whole semester.
We'll also go over some initial planning hacks that can help you start the semester much more smoothly than a lot of other people do.
If you're unable to see the video above, you can view it on YouTube.
Looking for More Study Tips?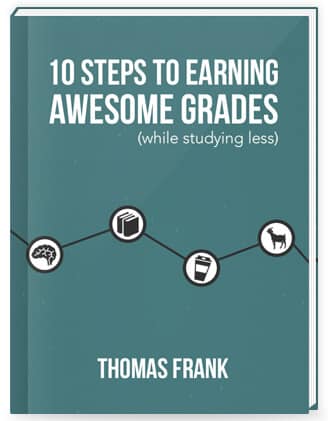 If you're looking to make this semester your best one ever, I think you'll find the study tips in my free, 100+ page book 10 Steps to Earning Awesome Grades (While Studying Less) to be helpful.
The book covers topics like:
Defeating procrastination
Getting more out of your classes
Taking great notes
Reading your textbooks more efficiently
…and several more. It also has a lot of recommendations for tools and other resources that can make your studying easier.
If you'd like a free copy of the book, let me know where I should send it:
I'll also keep you updated about new posts and videos that come out on this blog (they'll be just as good as this one or better) 🙂
Video Notes
What are some things you do to make sure your semesters start smoothly?
If you liked this video, subscribe on YouTube to stay updated and get notified when new ones are out!