In the past couple weeks I have majorly upped my iPhone productivity game.
This is due in large part to a podcast called Cortex, which is basically a bunch of conversations between a well-known YouTuber and a well-known podcaster about email, to-do apps, home screens, and other nerdy stuff.
I love it (because I am a nerdy YouTuber/podcaster), but I think anyone who works with technology and wants to become more productive will enjoy it as well. It doesn't hurt that one of the hosts is CGP Grey, who makes some of the best educational videos on the internet.
Today, I'll walk you through how I've set up my phone to maximize my productivity and reduce phone-based distractions.
This is very much work-in-progress, but I think it's a massive improvement over what I was rocking before. Here's a shot of that old homescreen:
Not terrible, but not really great either. Aside from the game sitting on the homescreen that shouldn't be there, there's a lot of visual clutter.
The new setup reduces visual clutter, organizes my apps better, and also cuts down majorly on distractions (and the potential for distraction).
Check out the video to see it in action, or scroll down for links to some of the apps I use.
If you're unable to see the video above, you can view it on YouTube.
Looking for Study Tips?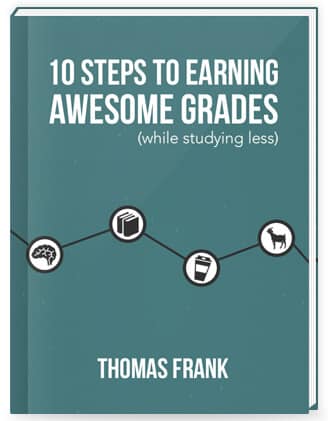 If you want to become more productive, your phone is just the tip of the iceberg. You'll find a lot more tips in my free 100+ page book called 10 Steps to Earning Awesome Grades (While Studying Less).
The book covers topics like:
Defeating procrastination
Getting more out of your classes
Taking great notes
Reading your textbooks more efficiently
…and several more. It also has a lot of recommendations for tools and other resources that can make your studying easier.
If you'd like a free copy of the book, let me know where I should send it:
I'll also keep you updated about new posts and videos that come out on this blog (they'll be just as good as this one or better) 🙂
Video Notes
Do you have any other apps or tips for organizing your phone that helps you be more productive?
If you liked this video, subscribe on YouTube to stay updated and get notified when new ones are out!