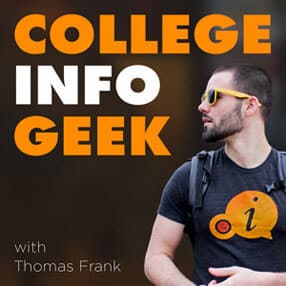 A while ago I saw a video called Life Explained in 27 Seconds.
This gist of that video is that life is like a treadmill. If you walk, you'll stay where you are. If you stop moving, you fall behind and everything basically goes to hell. And, of course, you have to sprint to get ahead.
It's a pretty motivating video, and the metaphor underneath it works just as well if you narrow its focus from life down to school.
There's one caveat, though… with school and college, it can often feel like you have to sprint all the time just to keep up. And sometimes you still find yourself behind; maybe it happened because you stopped sprinting for a while, or maybe the treadmill was simply moving too fast.
Either way, falling behind in school happens. It's happened to me, and I'd be confident in saying that at least 90% of students experience it at some point during school or college.
The question is… how do you recover? That's the focus of this week's episode.
There are two specific problems we'll be tackling here:
How to catch up when you're massively behind on your work
How to recover when your grades are low or you've failed a test
Both of these problems can put your GPA in hot water and crank your stress levels to 11, but fortunately, there are things you can do to mitigate both of them as well.
When you're behind, you're going to have to sprint harder than ever to get back to where you need to be. However, you can make some smart decisions along the way that will hopefully help make the recovery process easier and quicker. In this episode, we'll pull the techniques we know about for doing that out of our brains and shove them into yours.
Things mentioned in this episode:
Want more cool stuff? You can find all sorts of great tools at my Resources page.
If you enjoyed this episode, subscribe to the podcast on iTunes! It's easy, you'll get new episodes automatically, and it also helps the show gain exposure 🙂 You can also leave a review!
Here's an image for sharing this episode on social media: