You might have seen montages of vloggers who get paid to document their travels in exotic places, or daily photos of Instagram bloggers who always seem to be somewhere gorgeous (though all those images might just come from the one trip they went on a few months ago, just saying.).
Don't these make you want to drop out of school and get on a plane? I know I do.
So how do they do it?!
In his book The 4-Hour Workweek, Tim Ferriss talks about the New Rich and how the new form of wealth these days isn't about being able to afford the fastest cars or the most expensive clothes. Instead, it's about being able to work, live and spend your time wherever you want, however you want.
He also makes the distinction between having a million dollars, versus living the lifestyle of someone who has a million dollars… And how you probably won't even need a million dollars to live like a millionaire.
Sounds pretty sweet, right?
So, how do you join the New Rich and have the financial and locational freedom of a millionaire, without having to work 40 years to save up for that lifestyle?
In this post, I want to show you can travel as much as you want – even if you're not a trust fund baby like me! 😂
1. It's Not as Expensive as You Think
Chris Guillebeau, New York Times bestselling author who also visited all 193 countries in the world, likes to say, "You don't have to live life the way others expect."
We should always be questioning and debunking the myths that society tells us are par for the course. And sometimes, we even have to debunk the myths we tell ourselves so we can live the life we want to live.
This thinking is particularly true with travel, especially with regards to how much money it costs to do it. For starters, with some digging, you might find that it's actually cheaper to live abroad than in your hometown.
Let's take Toronto, my beloved city, for example. Check out this listing from NomadList.com on how much it costs to live in the 6ix:
Compare that to Chiang Mai, Thailand which is arguably the place to be for remote workers:
…compared to $883 per month in Chiang Mai.
That's (literally and figuratively) a world of difference between Toronto and Chiang Mai. (Plus according to JohnnyFD's book 12 Weeks in Thailand, if you're in Chiang Mai, you can opt to spend a couple hundred dollars more and come away with a full PADI scuba-diving certification, or an entire month's worth of Muay Thai or kickboxing classes.)
2. It's All About Priorities
In his book How to Travel on $50 a Day, Matt Kepnes (a.k.a. Nomadic Matt) talks about how he learned to cook and to say "No" to going out in order to save money for his travels. That's not to say that you shouldn't be having fun as you're planning your trip, Rather it's that you should be looking to save as much as you can. And sometimes that requires sacrificing things like eating at restaurants and going out with friends.
This is because when you're on the road, every dollar can go a long way.
For example, as a kid growing up in the Philippines and having such a weak currency, I developed an odd obsession: international exchange rates.
When my family took a trip to Hong Kong and visited the night markets when I was 10, I was mentally calculating how much everything cost in Philippine peso.
So I know that though the exchange rates vary, you can typically get around 40 Philippine pesos for every 1 USD.
I also know that a belly-stuffing meal at a sit-down restaurant in Manila – with rice, meat, and drinks! – costs around P200 or $5.
Think about this.
This means that $100 can buy you ten days' worth of lunches and dinners.
And if you want to stretch that Benjamin, you can get street food. A filling variety of grub costs less than a couple bucks (though be careful — your stomach might not come away as happy as your wallet).
This said, if you live on your own or with roommates in most any major North American city, your monthly expenses will probably include…
Pricey (and abhorrently tiny) apartments/condos
Car payments (plus gas, insurance, and repairs) and
Lots of eating out
But if you're serious about travel and paying for experiences rather than things, some of those things have to go.
Ask yourself: What could I give up so I can start traveling?
To help you out, here are a few things you can consider eliminating to make room for travel:
3. You Can Make Money and Travel
Now, maybe you've just taken your first trip – and realized that the travel bug bit harder than expected. You no longer want just a 2-week vacation – you want to travel full-time now.
If this is you (and I don't blame you — it's a pretty good life), you'll have to build some highly portable skills.
And no, they don't have to be just web design or programming.
In fact, the folks over at Expert Vagabond classify travel-friendly jobs into three buckets – expats, vagabonds, and digital nomads. Here's how they differ:
Expats work in a foreign country but are a citizen of another. They live in a specific country for months at a time and can typically finance their time there by teaching English or house-sitting, among other things.
Vagabonds travel and usually take on non-office jobs, like bartending, WWOOF-ing in farms and working in hostels for free lodging and/or an hourly wage.
Digital nomads are the most flexible of the three because they can work from anywhere there's (ideally) a fast internet connection. Digital nomad work can come in the form of freelance writing (like me!), social media management, customer service for startups, entrepreneurship, etc.
OK, now that that's cleared up and you have an idea on which of those buckets you fall into it, it's time to…
1. Get a Remote Job
Remote jobs are becoming more and more common these days because of the proliferation of fast internet and the business case of lower costs for companies.
In fact, companies like Basecamp and Buffer are specifically designed to support a remote work culture.
Knowing this, you can begin to see what's out there and start applying for jobs on sites like RemoteBase.io, Remote.Co, and WeWorkRemotely.Co.
Then once you get an interview, be sure to ask about the company culture. Remember, interviews are negotiations. It's not just about them evaluating you – you're also looking to see if they're a good fit for you. (To learn more about being the dream employees companies want to hire, check out this post!)
One important note, though: Try to look for companies that already embrace the remote work culture, like Ramit Sethi's I Will Teach You To Be Rich. As a student or a new grad with little to no work experience, you don't have a ton of negotiating leverage to ask for a remote placement from an employer who doesn't already have the right policies in place.
Want to learn some specific jobs you can do from the comfort of your home? Check out this guide.
2. Start Freelancing
If you don't see yourself working for someone else, or maybe you have some downtime as you're waiting on some companies to get back to you, then you might want to take the route of self-employment, i.e., becoming your own boss.
Fortunately, it's not as daunting as it sounds. In fact, there are lots of different kinds of self-employment.
One type is what Thomas and I (and other bloggers, YouTubers, and Instagrammers) do – content creation. (This is also why YouTubers are called content creators. Whodathunk, right?!).
Thomas's business model, specifically, is selling advertising and deals to brands who want access to his audience. Other online entrepreneurs or solopreneurs (entrepreneurs who intentionally keep their company small and run the whole thing themselves) sell physical or digital products, like eBooks, online courses, homebrewed software, and monthly subscriptions, to support their nomadic lifestyle.
Content-creation translates into truly passive income in that, once you have steady traffic to your site, have built up an email list, and have a sales funnels up and running, you can make money while you sleep.
The disadvantage of this approach is that content-creation takes a long time to do and a lot of upfront work. So if you're graduating soon and are in a time crunch, then it might not be the best option in the short term.
A more conventional way to become self-employed (if you can call anything in this post conventional) is freelancing. This is where you have a small group of clients/customers who pay you hourly or on a per-project basis. The idea is that you're not beholden to just one "boss", and your revenue from all your clients together should be able to pay for all of your expenses.
Personally, I got my start doing freelance writing and copywriting on Upwork. I then signed on as an in-house copywriter for a friend's web design firm, before landing this opportunity with Thomas and College Info Geek.
There's not a lot of space to go in-depth on freelancing here, so check out The Ultimate to Guide to Freelancing in College to learn more about it.
4. Don't Wait
I once read about a familiar equation that we face in different stages of our lives.
This problem stops us from traveling and from pursuing our dreams.
Here's the problem: To pursue the lifestyle we want, we have to have enough time, energy and money.
This concept is so important that I even drew a horrible little Venn diagram to make sure you can visualize the point: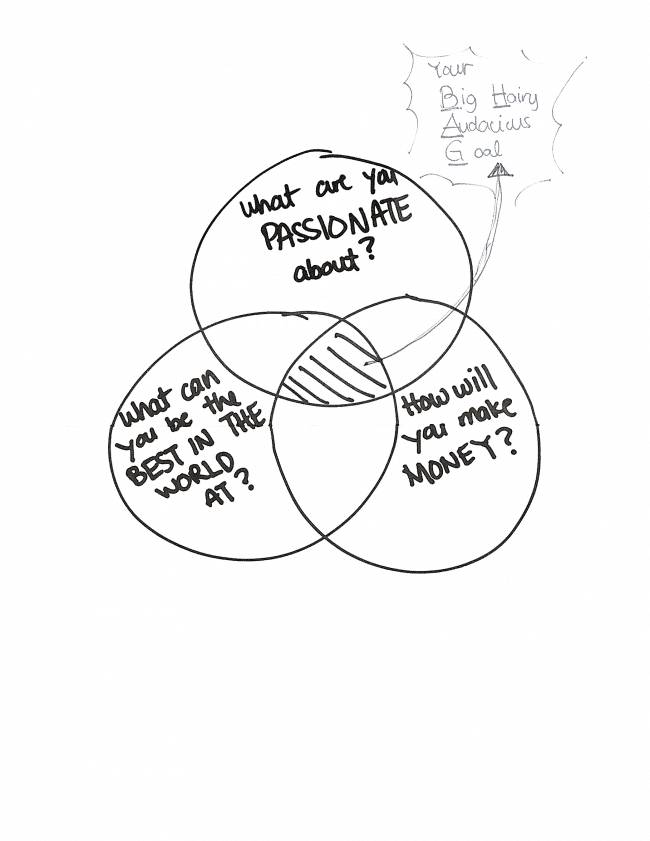 If you're missing one part of the equation, then it's just impossible to fully enjoy the New Rich lifestyle!
Think about it:
Young people (us!) have time and energy, but no money, which = Zero to little traveling.
Working professionals have energy and money, but no time, which = Maybe two weeks of rushed "traveling" every year.
Retirees have time and money, but no energy, which = "Let's just go on a 5-day cruise, honey…" (Nothing wrong with cruises! It's just that when you're older and tire easily, this might be the only way you can travel.)
As a student, this diagram means that if you've always wanted to travel, all you have to do is find some way to make money while you do.
Now this may mean waiting tables for a few months to save enough money, taking a remote customer support job that will let you take your life on the road, or maybe even starting a blog and writing full-time.
The key is that now you know which part of the problem you should be solving, it's simpler to solve 😄
And finally, regardless of what you want to pursue, be sure to check out these resources that can help you get there:
If you could go to one place in the world for 2 weeks, all expenses paid, where would you go and what would you do? Let us know in the College Info Geek Community or in the comments below!
Hope to meet over coconuts on a beach in Bali or for sake in a Japanese sushi bar one day! 😁
Image Credits: Beach, Camera and map, Camera and cactus, Man with Laptop, Writing on tablet, Embarking on an adventure