Making a website used to require a lot of time and technical skill. These days, however, we have website builders that let you create a site in a few hours — no coding required.
Still, there are a lot of options when it comes to choosing a website builder. And not all website builders are created equal.
To help you find the right option for your needs, we've created this guide to the best website builders in 2023. Whether you're looking to create a portfolio, blog, or online store, there's a tool for you on this list (no matter your budget).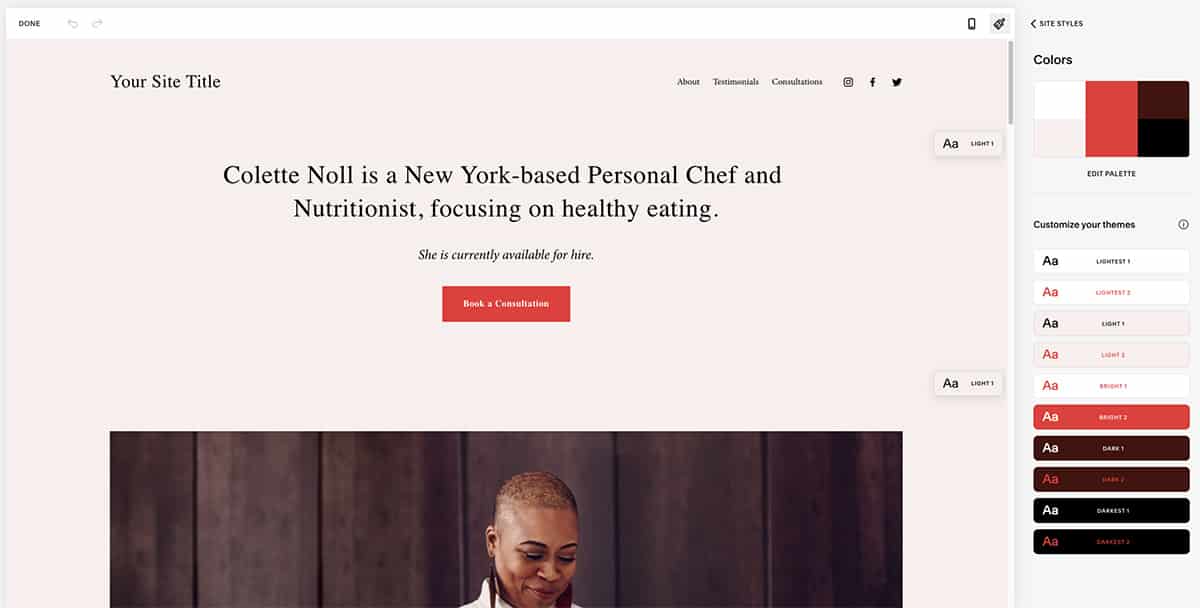 Overview: One of the most popular website builders on the market, Squarespace offers a full suite of features at a reasonable price.
Pricing: Plans start at $12 / month (billed annually)
Out of all the builders on this list, Squarespace is probably the one you've heard of. But the company's extensive advertising isn't just hype. Squarespace aims to be an all-in-one tool for creating any kind of online presence. And for the most part, they deliver.
Want to create a blog? Squarespace has tools for that. Need a way for clients to book appointments? You'll find that in Squarespace as well. And if you're looking to dip your toes into ecommerce, Squarespace has everything you need to create a full online store.
When you sign up for Squarespace, the app will closely guide you through the process of creating your site. You'll answer some questions about your site's purpose, and Squarespace will then recommend some templates to get you started. From there, Squarespace will ensure that your site looks beautiful and loads quickly.
The Squarespace editor doesn't offer as much design customization as some of the other builders on this list. But in many ways, that's a good thing. Squarespace protects you from creating a site with design or technical problems. You can rest assured that your site visitors will have a great experience no matter what device they're using.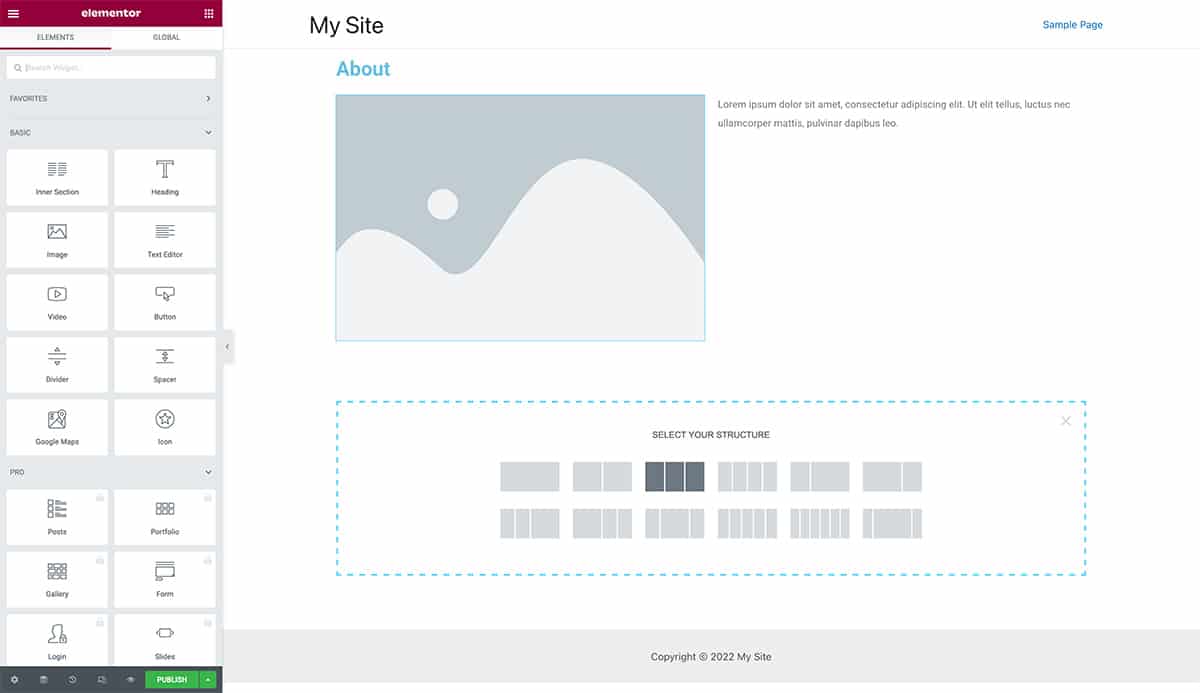 Overview: The best website builder for WordPress users.
Pricing: Free (with limited features). Upgrade to Elementor Pro for $49 / year to get additional templates, widgets, and other features.
WordPress is an excellent tool for managing and publishing blog posts. But when it comes to design, its features can feel lacking. The company has attempted to make it easier to design blog posts with its Block editor, but it still leaves a lot to be desired.
If you're looking to gain more control of the design of your WordPress site, then Elementor is our top recommendation. There are lots of other WordPress website builders out there, but Elementor outshines them with its speed and affordability.
At its core, Elementor is a visual website builder. It lets you drag and drop elements on your page in real-time. You can adjust typography, add widgets, and generally customize your site's theme — all without writing a line of code.
As flexible as Elementor is, however, you don't have to start from scratch. The app offers a variety of fast, attractive website templates to begin your project. And from there, you can customize your site to your specifications.
Finally, Elementor can be much cheaper than many of the other options on this list. Elementor's free plan offers enough tools to create a basic portfolio or blog website. All you need is a place to install WordPress and host your website, which you can learn more about in this guide.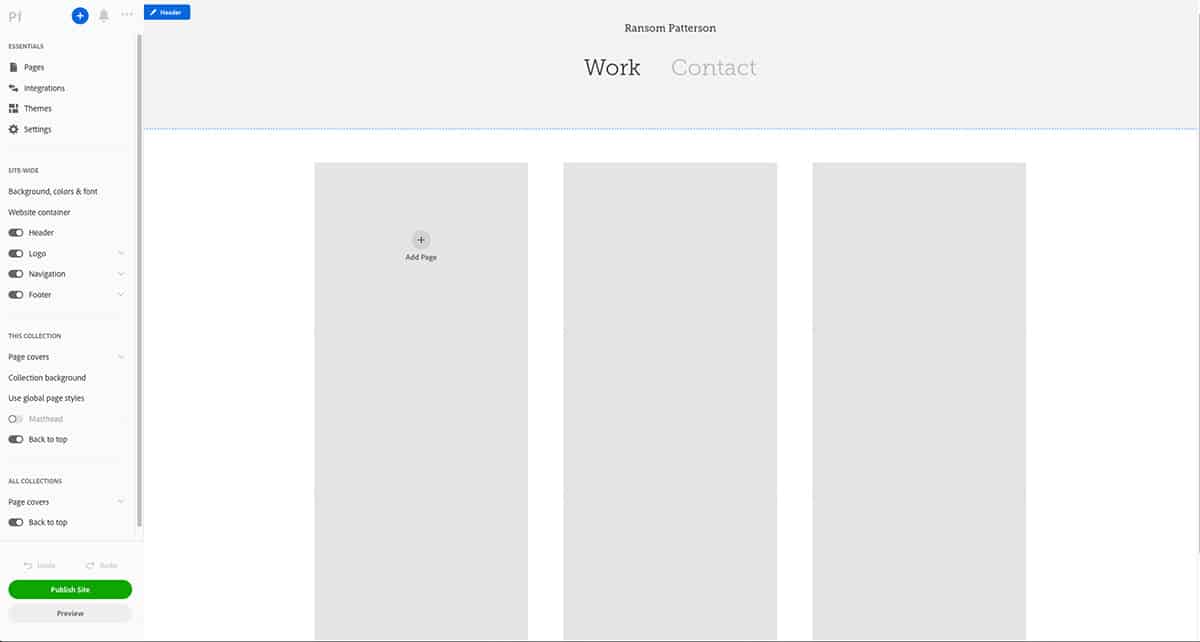 Overview: If you want an online portfolio without the hassle, Adobe Portfolio is a superb option.
Pricing: Included free with a subscription to Adobe Creative Cloud (starting at $9.99 / month)
If you're a creative professional, then it's essential to have a portfolio to showcase your work. But what if you don't have the time or skills to design a portfolio site? In that case, Adobe Portfolio is an option worth considering.
Adobe Portfolio focuses on simplicity. You won't find ecommerce, blogging, or other extraneous features. What you will find is a tool for turning your body of work into a fast, beautiful website.
Adobe Portfolio integrates with Behance, making it easy to upload your projects to your site. You can also create a contact page, import photos from Lightroom, and display your photos in attractive grids (no code required). Plus, Adobe Portfolio has a variety of themes to showcase your brand and style.
To top it all off, Adobe Portfolio is included free with a Creative Cloud subscription. So if you use Creative Cloud for your photography, design, or other creative projects, you already have access to Adobe Portfolio.
Overview: A powerful website builder that lets you code as little or as much as you want.
Pricing: Plans start at $12 / month (billed annually)
If you've found the features of the other website builders in this guide too limiting, then you should consider Webflow.
Webflow offers complete, granular control over every aspect of your site's design. You can drag and position elements precisely where you want them. And as you work, Webflow automatically turns your visual design into clean HTML, CSS, and JavaScript.
Like most of the other builders on this list, Webflow offers plenty of templates to get your site design started. It also includes tools for collaborating on designs, making it a great option for agencies or other creative teams.
Note, however, that with all this power comes a steeper learning curve. Compared to the other builders we've discussed, the Webflow interface is quite labyrinthine. So expect to spend some time orienting yourself before you can start creating websites.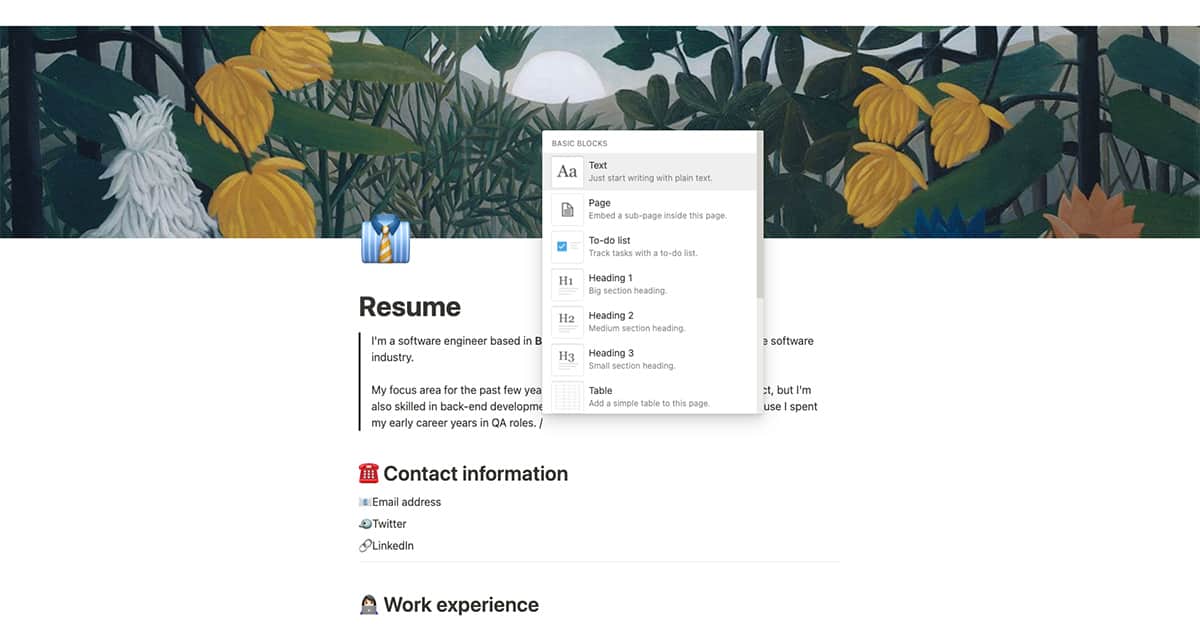 Overview: If you want to create a website completely for free, Notion makes it possible.
Pricing: Free (limited to 5 MB of file uploads). To get unlimited file uploads, upgrade to Personal Pro for $4 / month (billed annually)
Our last website builder isn't really a website builder at all. Notion is an app that combines project management, task management, team collaboration, wikis, and much more. Essentially, it lets you design the perfect online workspace to fit your (or your team's) needs.
Due to the app's active community, people have figured out how to do all kinds of cool things with Notion. One of these is creating a web page. You can share any page you create in Notion to the web. And once you've done that, anyone with the link can view your page.
Sure, you won't be able to customize every aspect of the layout or create a specific design. But if you're okay with sacrificing some design flexibility, then Notion has all the tools you need to make a basic portfolio or resume website in a few hours.
You can drag and drop elements (what Notion calls "blocks") around to change the page layout. You can embed images, videos, and other media. And you can even create links between or within pages to help visitors navigate your work.
Best of all, it's theoretically possible to create a website completely for free with Notion. Notion's Personal plan costs nothing, and it has all the features you need to make a simple web page.
The only limitation to watch out for is the 5 MB file upload limit. This could be an issue if you want to create a portfolio site with lots of images. But you can remove the limit for just $48 / year (which still makes Notion one of the cheapest options on this list).
Need a primer on how Notion works? Check out this free Notion Fundamentals course.
Find Your Ideal Website Builder
I hope this guide has helped you find the right website builder for your next project. Remember that there's no such thing as the "best" website builder. Each person's needs are different, and some builders will serve those needs better than others.
Happy website building!
Image Credits: editing website