I absolutely love video games.
You're probably aware of this – maybe you've seen enough of the gaming references in my videos, or maybe you listened to this week's podcast interview with one of my favorite gaming YouTubers.
For me, though, gaming isn't something that ever threatens to take up the time I need to finish my work (now, books on the other hand…)
I have a brain that actually gets bored with gaming after an hour or two on most occasions; it's a very rare occurrence for me to really get sucked into one game for hours on end.
However, I realize that this is not the case for other people. For some, gaming is a much more compelling hobby – one that can be tough to properly balance with school, work, and studying.
That's why this week's video attempts to provide some guidance on how to do just that.
If you're unable to see the video above, you can view it on YouTube.
"This is cool – but gaming isn't the only distraction I'm fighting!"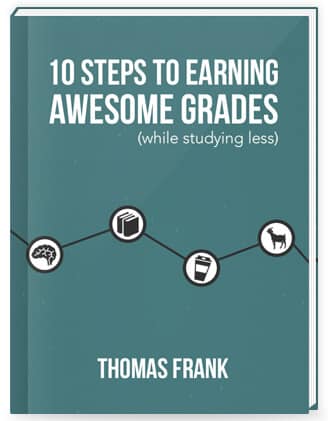 If you're having trouble avoiding distractions, staying focused, and actually studying… I've got you covered.
I wrote a 100+ page book called 10 Steps to Earning Awesome Grades (While Studying Less) and I'd like to share it with you for free.
The book covers topics like:
Defeating procrastination
Getting more out of your classes
Taking great notes
Reading your textbooks more efficiently
…and several more. It also has a lot of recommendations for tools and other resources that can make your studying easier.
If you'd like a free copy of the book, let me know where I should send it:
I'll also keep you updated about new posts and videos that come out on this blog (they'll be just as good as this one or better) 🙂
Video Notes
Hope you found this useful! If you have other tips, leave them in the comment section of the video 🙂
If you liked this video, subscribe on YouTube to stay updated and get notified when new ones are out!