I've always been fascinated with finding out what tools people use to do things.
There's a relatively new site called StackShare that lists the technology stacks used by startups like Airbnb, Twitter, Dropbox, and others.
There's also Homescreen, which lets people share their iPhone homescreens and discover new apps. I love scrolling through both of them (Here's my homescreen if you're curious).
I don't think I'm alone in this fascination. One of Batman's most interesting features is his utility belt, and our eyes light up when we see James Bond get a cool new gadget. I also get this question quite often:
"Hey Tom, what tools do you use to keep everything running at College Info Geek?"
Consider this post my answer to that question. It's also just a chance for me to geek out. There are 29 major apps on this list, plus a few supplemental ones that are tiny or used less often.
I've also included some of the real-world hardware that helps me work at the bottom, so if you're here looking for a shot of my workspace, that's where you'll find it.
Also, I won't be mentioning social networks or mega-obvious things like web browsers or operating systems. That being said, let's do this!
Btw: Some of these apps are mentioned on my Resources page, which also lists a ton of student-specific tools. You might find that useful as well.
The Apps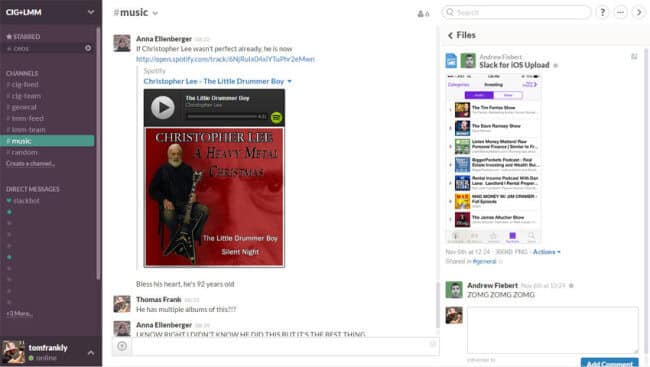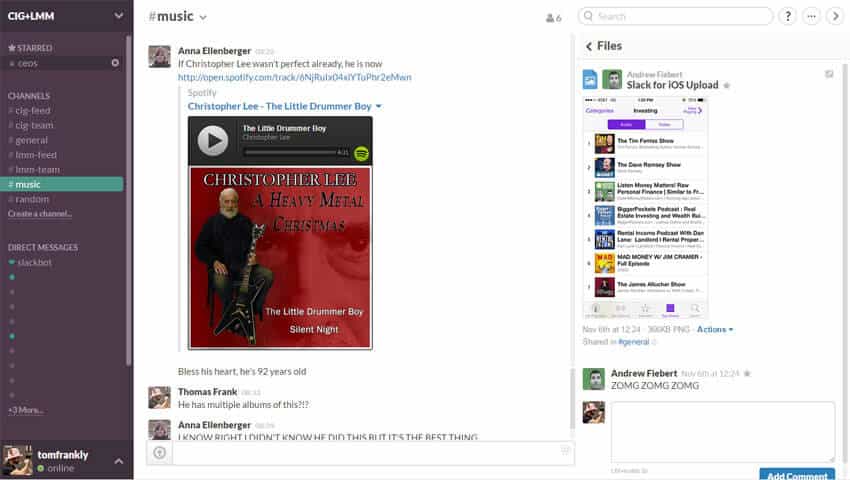 Slack is an amazing team communication app that brings back a bit of nostalgia from when I used to use IRC chat. I have a team here at CIG now (Laura and Meg both help with podcasting and a few other things), and I also do a lot of work with the team from Listen, Money Matters – so team chat is essential these days.
With beautiful apps, kick-ass integrations with other services (Trello, Spotify, Giphy, etc), Slack has almost completely replaced email for communicating with the people on my teams. I freaking love it.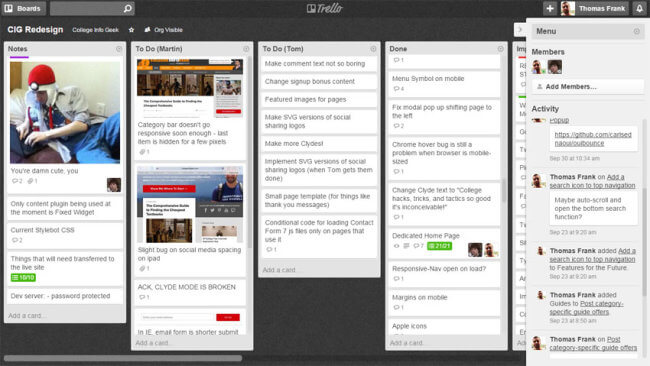 For me, Trello is the best tool out there for team-based projects. Its kanban-style task flow makes it really easy to see the state of all the parts of a project, and it also lets you easily assign tasks to team members, add checklists, attach files, and do other cool stuff.
Martin and used it to complete the CIG redesign this year – which, as you might be able to tell from the screenshot above, was a huge project. Trello was a vital part of our workflow. These days, I use it with Laura for booking guests and with Meg for tracking the status of podcast edits. If you're an introvert, you can also use it to be more social! (Shout-out to my friend Tyler for developing that use for it)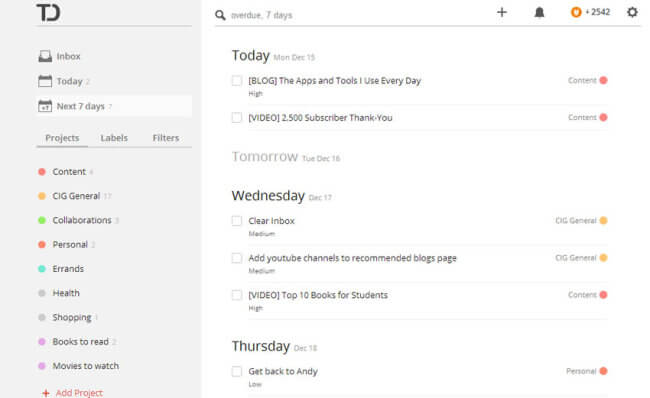 While I love Trello for team projects, it's not my ideal system for personal tasks. For those, I use Todoist. It's got a simple, minimalist design (for whatever reason, I'm not fond of Wunderlist's UI anymore) and syncs nicely between all its apps and the Todoist website.
I also love the Label system; I use it to assign contexts to my tasks based on levels of mental intensity required. Doing this lets me group my low-intensity tasks, giving me more time for focused intellectual combat.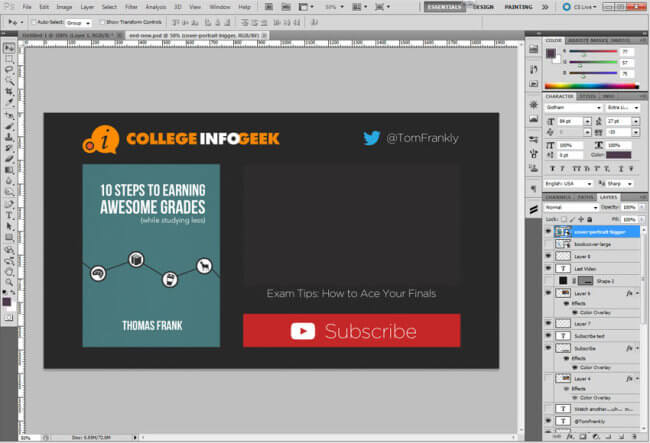 My website, videos, and podcast art wouldn't look nearly as good without Photoshop. If you see a graphic or photo on this site, or basically any non-text element in one of my videos, it was probably created or edited in Photoshop.
I actually created the entire layout for this website in Photoshop as well; my mock-ups for each page type (homepage, blog, single article) each have over 100 layers and took a ton of effort to produce. However, that effort made it much easier for Martin to know exactly how to code each page template.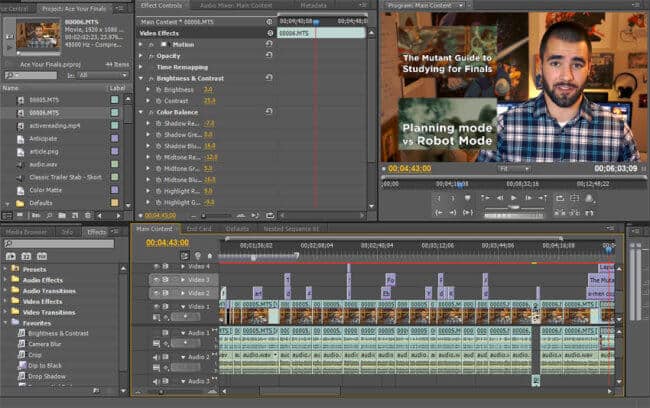 I'm creating new videos every week on my YouTube channel, and Premiere Pro is where I do most of my editing after I've finished getting all the footage I need.
Premiere is ridiculously capable, and it makes it easy to add effects, simple animations, and transitions to my videos. One of my highest priorities for my videos is to make them not boring (i.e. not just talking-head videos), so I'm glad I can add in other elements without too much effort.
I also occasionally use Adobe After Effects in conjunction with Premiere when I need to do some more heavy-duty animation (such as the "Read Backwards" heading in my active reading video).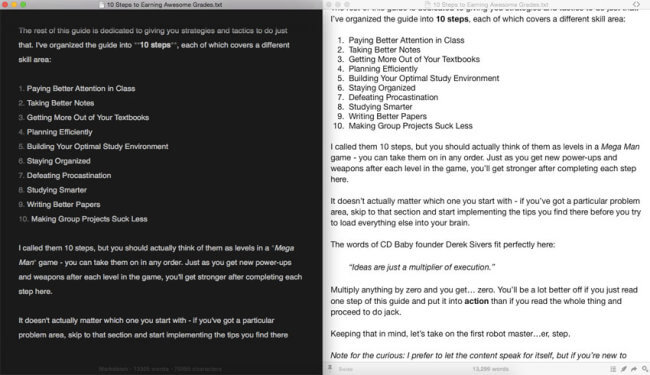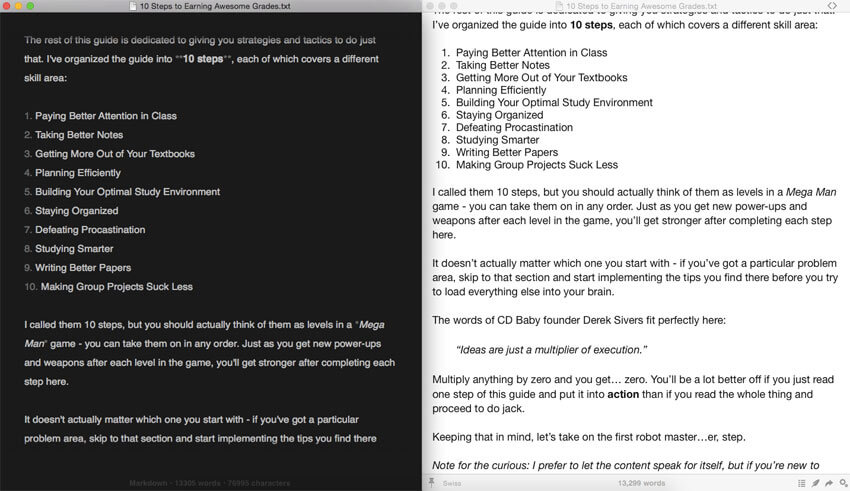 Byword is an excellent minimalist writing app that uses the Markdown syntax, which I love using because it lets you format your writing without taking your hands off the keyboard.
I write most of my post drafts in Byword after I've outlined them in Evernote, and I'm also writing my book 10 Steps to Earning Awesome Grades (which you can get for free) in it.
Byword is the app on the left; on the right, I have another app called Marked with lets me preview the actual formatting of my document in real-time.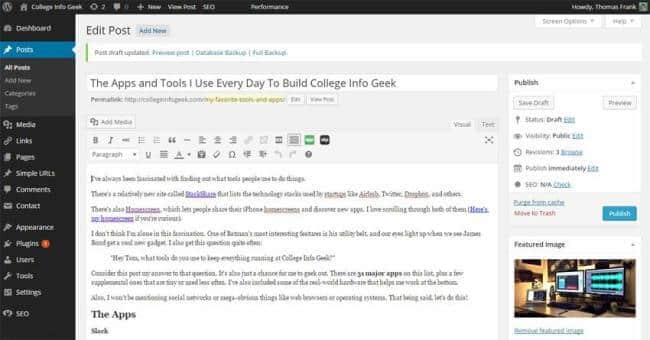 WordPress is the content management system that College Info Geek is build upon. If you've gone through my tutorials on building a personal website or a blog, it's the platform I teach you how to install.
Since it's open-source and has a huge user base, there are a ton of plugins and themes available, and it's ridiculously customizable.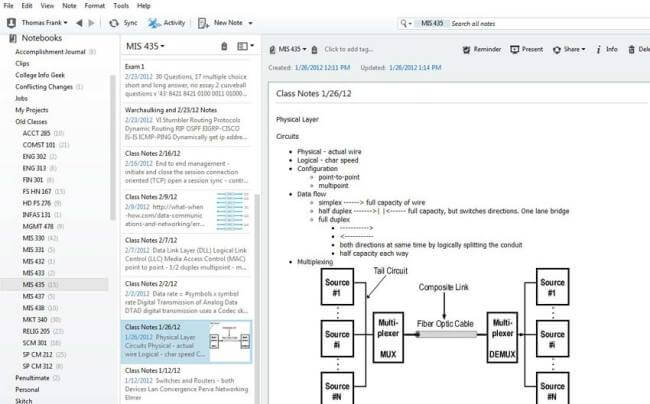 Evernote can help you dominate your classes, and for me, it's essentially a second brain. Anything I want to remember that isn't an event or a task usually makes its way into Evernote.
I outline all my videos and blog posts here, keep a giant list of topic ideas, and have template notes for commonly used text (podcast show notes, etc). I also took most of my notes (well, the ones I decided were better off done on a computer) for my classes in Evernote.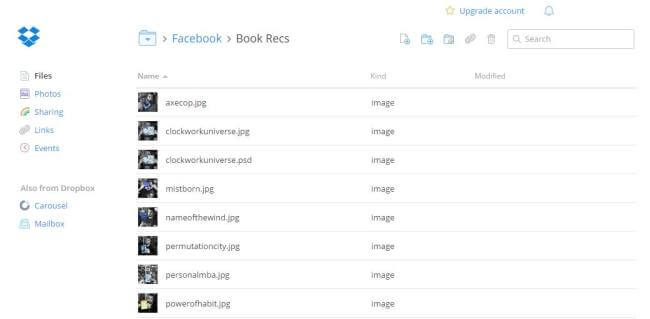 Dropbox has been making my life easier since my freshman year, and I consider it an essential app for any student. It keeps all the files you put in it synced between all your computers, and also backs them up in the cloud. If you've got the Dropbox app on your phone, you can access most of your files there as well.
These days, I'm also using Google Drive – it's the platform Meg and I use to share podcast files.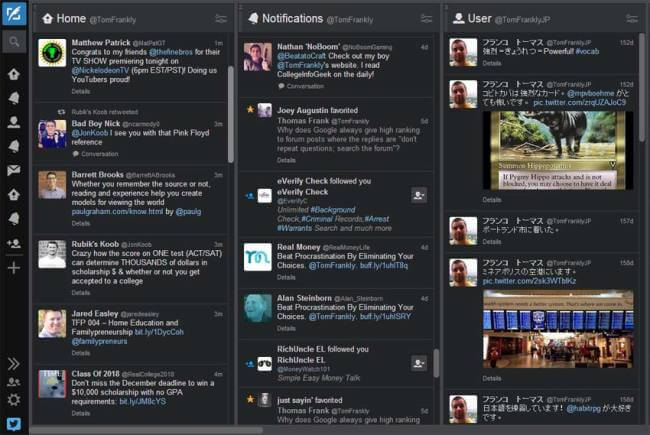 I'm not really a fan of using the actual Twitter website, so I use Tweetdeck to stay in touch with people. Twitter is my favorite social network, so it's the only one that has a dedicated app on my computer.
On my Mac and iPhone, I use the excellent Tweetbot app instead – it's just not available on Windows, and I do most of my work on my desktop. I also use the tweet scheduler Buffer as a foolproof early wake-up system.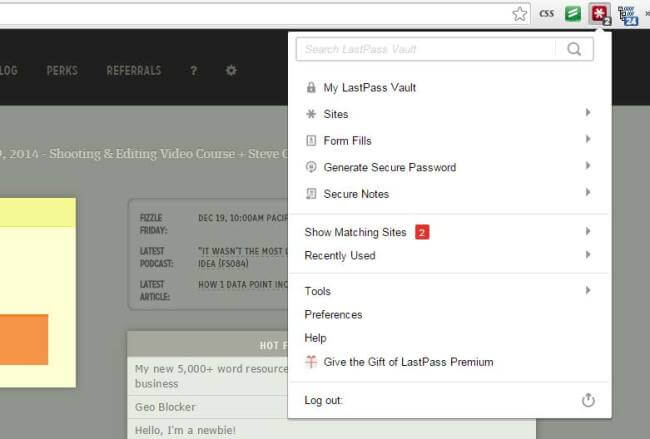 As I talked about in my podcast episode on not being dumb on the internet, it's terribly insecure to have the same password on all your online accounts. All it takes is for the weakest one to be compromised, and then all your account with that same password are at risk.
The solution, then, is to have different passwords for everything – and LastPass helps me manage them all. In fact, most of my passwords these days are just ultra-long strings of gibberish – even I don't know them.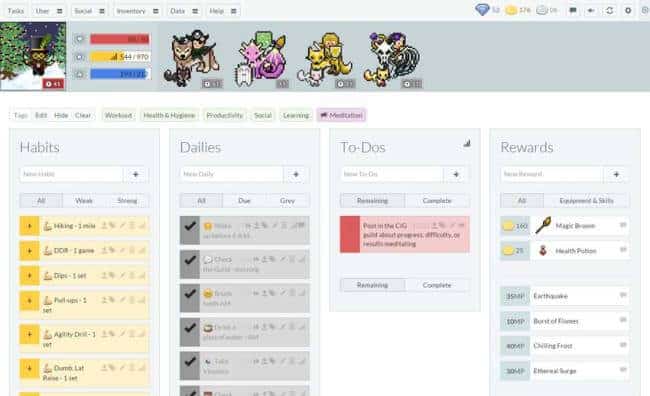 2014 has been the year of the habit for me. Each day, I wake up before 6 A.M. and complete a productive morning routine that includes meditation, a 7-minute workout, breakfast, a walk, and other things. I also drink plenty of water, and every day I read, write 500 words, and do 40 pull-ups.
How? HabitRPG. Without a doubt, HabitRPG is the best habit-tracking system I've ever used – the reasons for which I've explained in my video on the app. We've even got a CIG guild set up in HabitRPG with over 55 members now!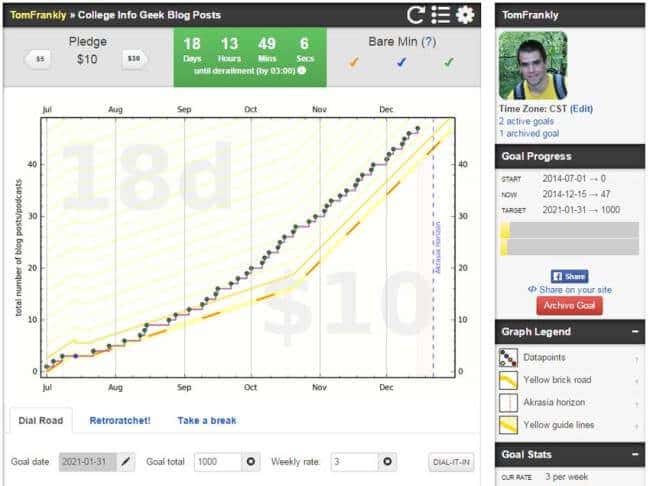 Go have a look at the CIG archives – what do you notice? If you scroll down a bit, you'll see that from mid-2012 to August of this year, I rarely published more than 5 pieces of content.
Now look at the lists for September until now – I'm now much more consistent about creating content. Currently, I've committed to a schedule of three posts a week – one podcast, one article, and one video (which takes many hours to create).
Beeminder keeps me on this schedule. Essentially, if I slack off too much an fall off the "yellow brick road" shown on the graphic above, my credit card will be charged whatever I've pledged (currently $10). I don't want to lose money, so I do my work.
So, what have the results been? In short, they've been incredible – my traffic was pretty much the same for two years. Today, it's up 250%. I feel my skills are growing as well; in a few short months, I've been able to get quite good at creating videos (and was even interviewed about it).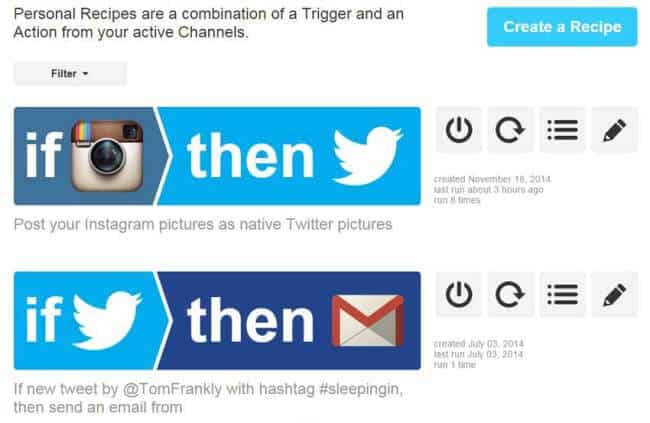 IFTTT is a really cool service that lets you create "recipes" that combine the functions of other apps together.
For example, I have one that will post my Instagram pictures directly to my Twitter feed (since Facebook bought Instagram and apparently can't get along with Twitter). I also have one that connects Buffer to Beeminder in a roundabout way, which creates even more motivation for me to wake up early in the morning.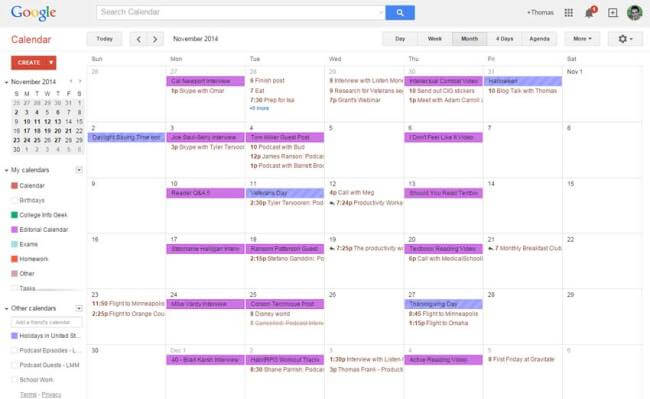 Other than Gmail (which I didn't mention in this post, but definitely use quite often), Google Calendar just might be the web app I've been using for the longest. I've been using it heavily at least since the first semester of my freshman year, if not longer.
In my opinion, it's the perfect calendar app. You can create multiple calendars to segment and color-code different parts of your life (classes, work, fun, etc), and today I have several shared calendars for further team collaboration.
On my iPhone, I use the excellent (and free) Sunrise Calendar app to interface with Google Calendar.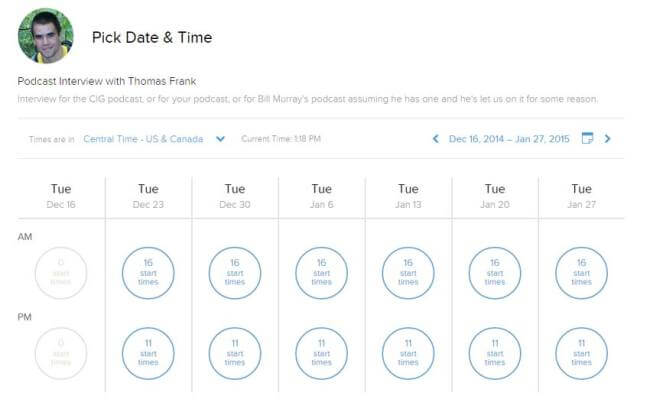 Trying to schedule meetings via email sucks. You end up with a stupidly long thread of messages where both people try to suggest times and guess the availability of the other, and once you've found a time that works, you each have to manually schedule it.
Calendly is a super-convenient app that eliminates this task. Since I do a lot of podcast interviews, it's an essential app; all I have to do is send someone the link to my Calendly page, and they can then pick a time from all those I've set as available. Then, the app will automatically add the meeting to my Google Calendar.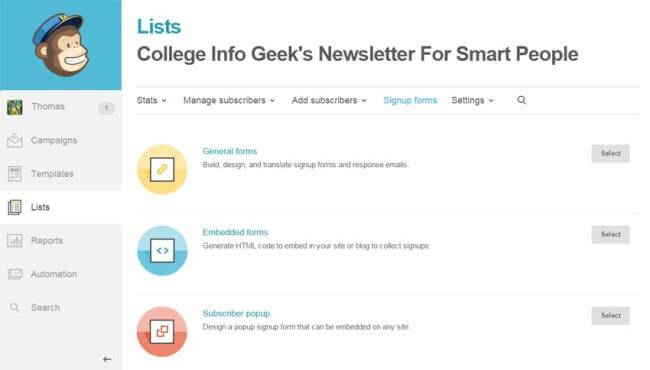 If you're signed up to receive the College Info Geek newsletter each week, then the emails you receive come from MailChimp. In my opinion, it's the best way to send an email to a lot of people – and lately, there are a lot of you!
In addition to the emails I draft manually every week (which update you on that week's podcast, article, and video), I'm also able to create smart autoresponders – emails that go out at specific times based on when someone signed up. This makes it easy for me to send out a copy of my book to someone when they subscribe, as well as to share tips I haven't written about on the blog.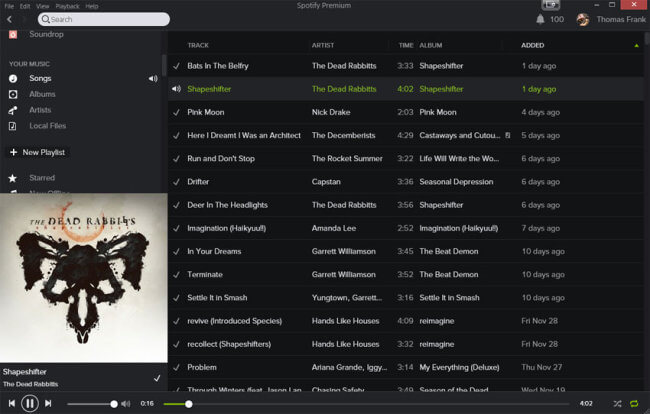 According to my year in music, I spent 39,931 minutes listening to Spotify in 2014. In short, I freaking love music and almost always listen to it while I'm working.
That figure isn't even accurate, as I also spend a ton of time listening to my Ultimate Study Playlist as well.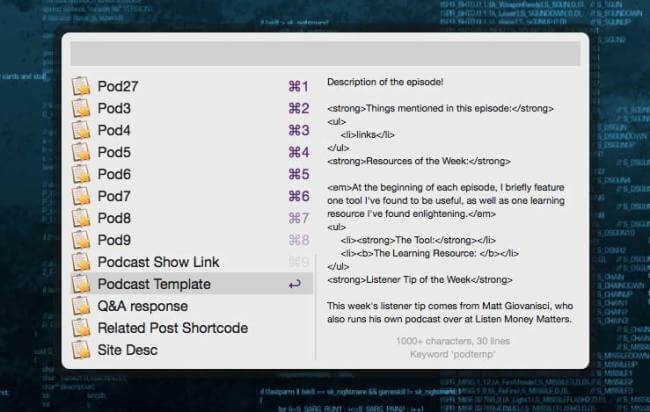 Alfred is an amazing productivity app for OS X that essentially replaces Spotlight, and adds a ton of other useful features to boot. I opted to purchase their Power Pack extension, so Alfred does a lot for me – after I've hit CMD+Space to instantly open it, I can tell it to open any other app, file, or web page.
I can also search Google with it, save and access my clipboard history, create text snippets for things I have to type a lot (this saves a lot of time), and a do a whole bunch of other things.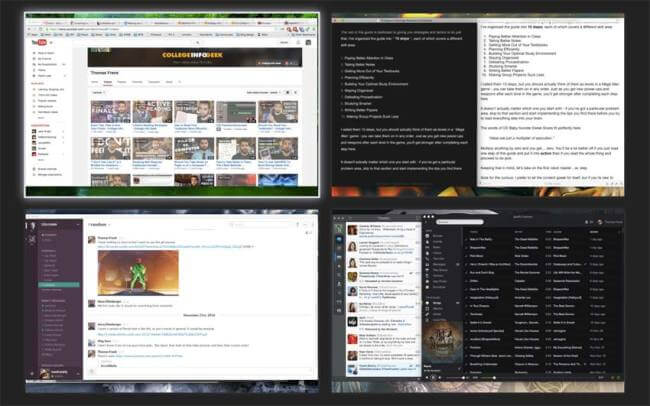 I like OS X Yosemite, and I liked Lion and Mountain Lion as well. Apple's added a lot of great things to OS X since I started using a Mac back in 2010.
However, one feature from Snow Leopard that I sorely missed after upgrading to Lion was the Spaces grid. Once Lion hit, the only way to arrange your spaces was in a single-file line – meaning I couldn't quickly go from Space 1 to Space 4. They also made the transition animation much longer. If you're reading this, Apple, you dropped the ball on this one.
Luckily, a smart developer took the time to create TotalSpaces, which restores the grid function to OS X and lets you set up Hot Corners. For me, it's an essential addition to my Mac.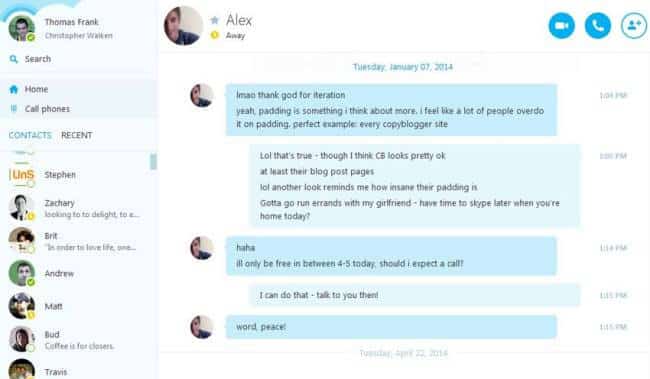 Being a podcaster, I use Skype a lot. It's the perfect way to talk to guests, and I can record interviews easily with the Call Recorder app on my Mac.
I also do lots of brainstorming with friends through Skype, and once a month I have a "breakfast club" meeting with my friends Zach Sexton (of Asian Efficiency) and Stephen Warley (of Unstuckable).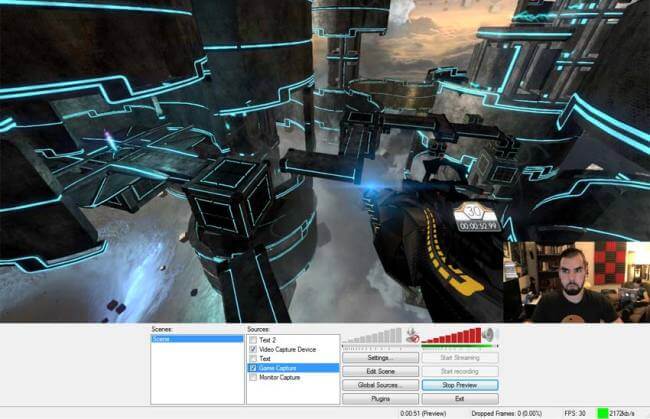 Occasionally, I like to integrate screencasts of programs I use in my videos. Sometimes I'll throw in game footage as well (there's a clip of Goat Simulator in my video on acing your finals). OpenBroadcaster is a free and surprisingly good program for streaming basically anything on or connected to your computer, and it can record great footage to your hard drive as well.
Really occasionally, I also do live Q&A sessions on my Twitch channel using it (here's an example). I think it's fun to combine gaming with something useful like answering questions about college.

The Pomodoro Technique is a great way to stay focused on a task – to use it, you simply set a time for 25 minutes and try to do as much focused work on a single task for that period of time. Using the timer externalizes your motivation, so it's really effective.
When I'm on my Mac and want to do a Pomodoro, I use FocusBooster. It's a simple Adobe Air app that floats above other windows on your desktop. When you're using another program, it becomes almost transparent.
If you're not on a Mac, Tomato Timer is a website with similar functionality. You can also be old-school and use an egg timer.
I take a ton of screenshots for my work (example: this post is chock full of them), and in my opinion JShot is one of the best screenshot utilities out there. The website for it isn't pretty, and neither is the interface, but it works well.
I've got a convenient keyboard shortcut set for it, and once I've activated it, I can easily draw a window wherever I want. It even has a little magnifier window so I can get really accurate with my screenshots. Once I've taken one, I can save it manually or hit a button to auto-upload it to Dropbox (which also places a shareable link to it on my clipboard).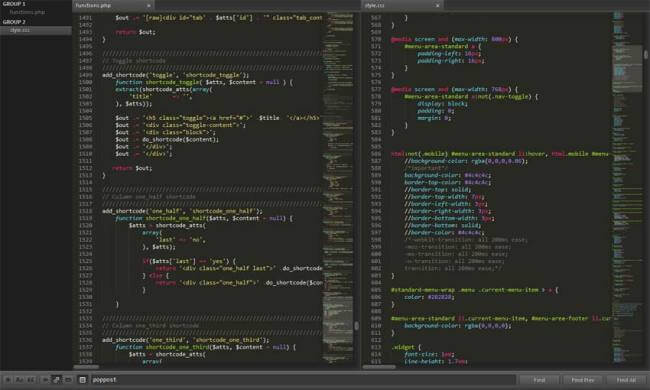 Though my friend Martin built this version of CIG, I still do a fair bit of web development myself these days. In fact, I made sure to go through the new CIG theme and taught myself all its functions so I could update things and perform site maintenance on my own.
Sublime Text 2 is my choice of code editor. It's beautiful, yes, but it's also powerful. It's got tons of plugins, and it also lets you use multiple cursors – by holding CTRL and clicking, you can set as many as you want. I'll sometimes use this feature to edit blog posts if I need to add the same bit of formatting to a ton of different lines.
I also use Transmit on the Mac and WinSCP on Windows to connect to my web servers.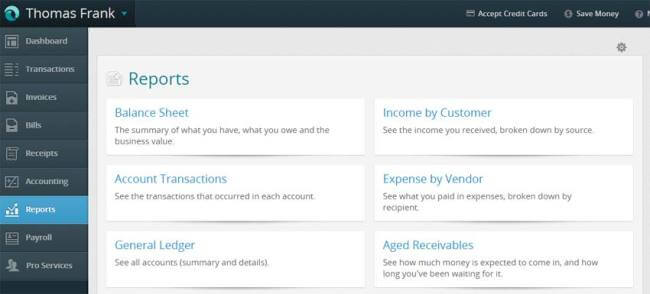 As an entrepreneur, I have to track all my income and expenses myself. Wave Accounting is an really nicely built accounting app, and it's free. It fits my needs perfectly, and now that I have an accountant doing my year-end taxes, I know it's perfectly fine for him as well.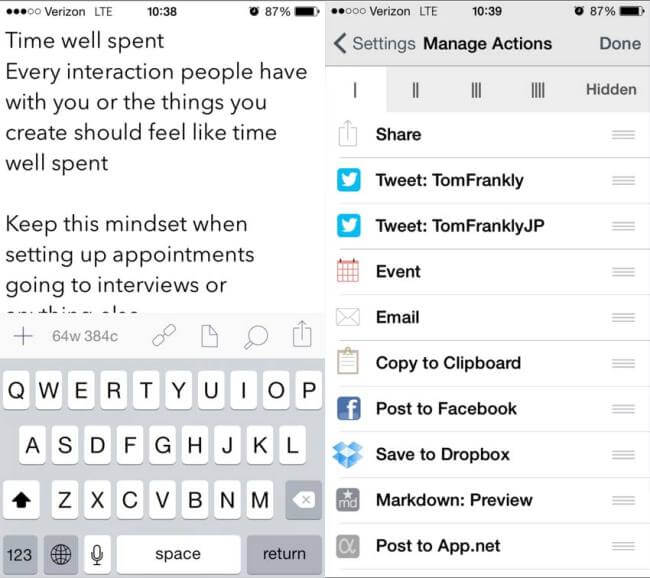 Drafts is the foundation of my Quick Capture system; it's an app that lives on my iPhone homescreen and allows me to enter text faster than any other app. The moment you open it, you get a new document with a blinking cursor.
Once you've typed something up, you can choose any number of actions for that text. I typically send my drafts to Evernote, where I process them later.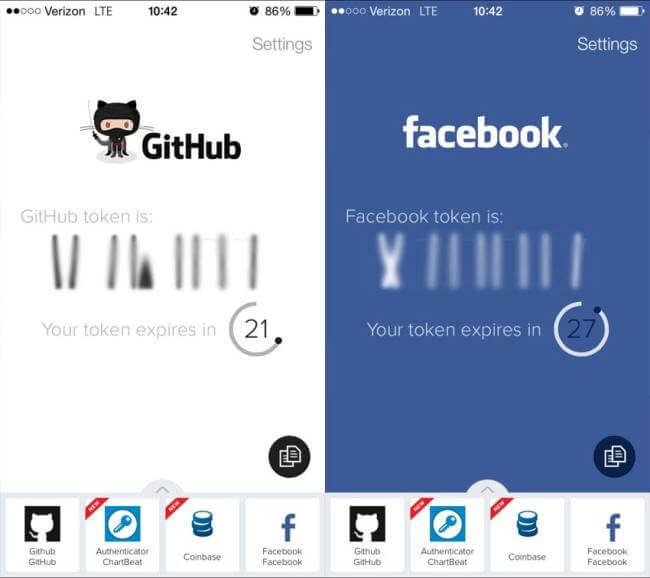 A great way to be even more secure online is to use 2-factor authentication – a system where you have to get a time-based code that changes every 30 seconds from your phone to log into an account (in addition to your password).
I have 2-factor auth enabled on every possible account I can, and the Authy app for my iPhone makes it easy to manage them.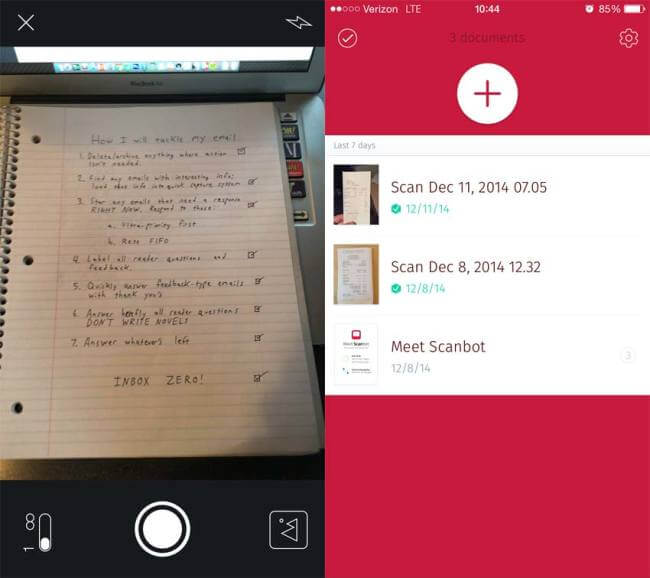 I don't like little scraps of paper. I'm totally fine with notebooks and sketchpads, as you'll see below, but little scraps are the bane of my existence – which means that I'd like to deal with paper receipts as little as possible.
Scanbot lets me quickly take a picture of a receipt, which is then auto-uploaded to my Receipts notebook in Evernote. From there, I can enter the data from those receipts into my accounting system.
The Hardware
Here's a shot of my main workspace! While I certainly like to hit up coffee shops to do work on my laptop, I do most of my work from this beautiful dual-monitor Windows PC.
The gear pictured, in no particular order:
The (formerly) beastly PC – I built this back in 2011, but it's still quite powerful. For the true nerds among you, here is the full build list. It's a bit saddening to see that this list is literally half the price now from when I bought it…
Dual 1920×1080 monitors – I can't imagine editing video without a second monitor now.
Macbook Air – the most important component of my mobile setup.
Blue Yeti microphone – the mic I use for both podcasting and making videos.
Sony NEX-5N – the camera I use to shoot my videos. (But I recommend the NEX-5TL these days as mine's a bit old)
Cheap sketchpad – I use this to draw occasionally.
Cheap notebook – I use this to make B-roll checklists when making videos, and to scribble random notes.
Interested in how I make videos? I wrote a huge post about my process on the Fizzle blog.
I also make good use of the whiteboard in my room, as I detailed in my post about my whiteboard system (though I'm not using the post-it notes anymore).
Lastly, I use the Minaal carry-on bag, which I think is the best travel bag ever if you're looking to travel with only carry-on luggage. I actually backed the company during their Kickstarter, so I got my back for about $80 less than the list price. For everyday campus use, I think it's overkill – but for travel, it's amazing.
How Much Does This All Cost?
While a lot of the apps and services I use are free, some of them either cost money by default or have premium versions I've upgraded to.
Here's an estimated breakdown of what I pay per month for them:
Evernote – $5
LastPass – $1
HabitRPG – $5
Mailchimp – $45 (used to be free until my subscriber count went over 2,000)
Spotify – $10
Total: $66/month. This doesn't represent all my business expenses by any stretch, though – I also pay for website and podcast hosting, internet, and my phone bill, pay my awesome team members Laura and Meg for their work,  fund a couple people on Patreon, and pony up for non-recurring expenses like new apps and gear. Oh, and I travel occasionally as well.
If you're interested in using any of these apps or want similar functionality, note that many of them have free versions or substitutes that work well (for example, Pixelmator is a great $20 alternative to Photoshop).

App/Tool Post Tag!
Why stop with just my setup and favorite apps? I think it's really interesting to see the setups of other amazing people.
To that end, I'm borrowing a concept I've seen from other parts of the online world and am hereby tagging a few people I admire. If you're tagged here, I hereby challenge you to write you own post in a similar vein to this one (it doesn't have to be as long :P). My choices, in no particular order:
If you guys are up to the challenge, send me your post/video/whatever when you're done and I'll link to it here. If you're up to it, link back to this one and tag a few more people as well. Let's see how people work and be more efficient.
I'll also note here that my friends Pat Flynn and Grant Baldwin already have lists up on their sites, which both provided some inspiration for me to write this one.
Whew. Over 3,500 words in… that's probably enough geeking out for one day. So, friend – what are your favorite apps? What about gear?