Something I've noticed as I've continued to age is that I seem to spend a lot less time with other people than I used to.
Not that I think this is any particular fault of my own — it does tend to happen as people move apart from each other after school to find jobs, start families, and other such shenanigans.
This happening is reflected pretty well through this graphic, taken from this tweet for posterity: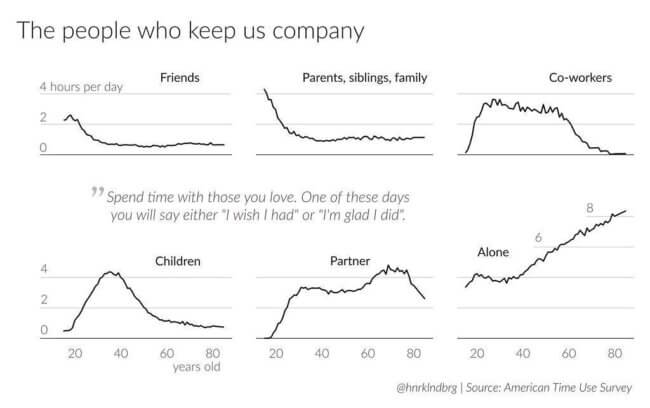 I didn't much care for this graphic's bluntness. But I think we can do more to change it if we accept it for being the likely default.
So, today, we're looking for ways to fight this trend. With even just a few habit changes, we might just be able to become social outliers.
Things mentioned in this episode:
This week's episode is sponsored by:
Skillshare: With thousands of courses in a wide range of different skills, Skillshare can help you take things to the next level. If you're one of the first 500 to use this link, you can also get started with 2 free weeks of unlimited learning (including Thomas' new Habit-Building class!) at Skillshare.com/geek.
Dashlane can help make your online experience safer and more convenient with password management, VPN, form filling and more. Head over to Dashlane.com/collegeinfogeek for a free 30-day trial, and once you've fallen in love you can use the code 'collegeinfogeek' for 10% off your subscription.
Other things we mentioned in this episode:
Want more cool stuff? You can find all sorts of great tools at my Resources page.
Timestamps:
0:00:40 – How much time you spend with people as you age
0:10:10 – Taking steps to being more social
0:15:25 – Volunteering
0:23:09 – Sponsor: Dashlane (Managing your passwords)
0:25:15 – Sponsor: Skillshare (Learning new skills)
0:28:42 – Going to meetups and making yourself available
0:45:53 – Thoughts on family
0:53:07 – Trello system for maintaining relationships
0:58:30 – Doing scary stuff
1:04:22 – Going from small talk to interesting conversations
1:07:20 – Regaining that feeling of social ambience
1:21:43 – Being alone without being lonely
1:25:49 – Conclusion
If you enjoyed this episode, subscribe to the podcast on iTunes! It's easy, you'll get new episodes automatically, and it also helps the show gain exposure 🙂 You can also leave a review!
Here's an image for sharing this episode on social media: