Greetings from Japan, friends!
Anna and I have kicked off this vacation by exploring Tokyo, and I got a few minutes on a bridge to film a review of the first day of my Japanese learning challenge.
I previewed this on the YouTube channel a couple weeks ago, but if you missed that, the gist is that I challenged myself to see just how much Japanese I could learn (or re-learn) in the 10 days leading up to my flight to Japan.
In this video, I'll show you the specific goals I wrote down going into the challenge. I'll also share my top 10 Japanese learning resources, in case this is something you'd like to do as well!
They're also listed below in the video notes section.
Hope you enjoy the video – you can also connect with me on Twitter if you'd like to see pics from the trip 🙂 さよなら!
If you're unable to see the video above, you can view it on YouTube.
Looking for More Study Tips?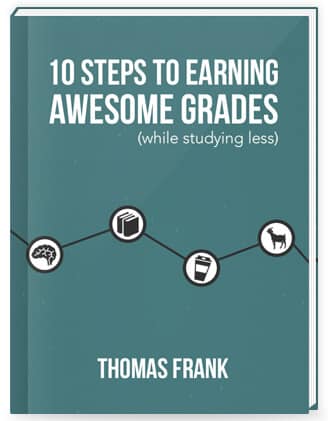 If you want to learn a language, you'll find plenty of generally useful learning hacks that'll help you along the way in my 100+ page book called 10 Steps to Earning Awesome Grades (While Studying Less).
The book covers topics like:
Studying effectively
Defeating procrastination
Taking great notes
Reading your textbooks more efficiently
…and several more. It also has a lot of recommendations for tools and other resources that can make your studying easier.
If you'd like a free copy of the book, let me know where I should send it:
I'll also keep you updated about new posts and videos that come out on this blog (they'll be just as good as this one or better) 🙂
Video Notes
If you liked this video, subscribe on YouTube to stay updated and get notified when new ones are out!