Hey there! If you're reading this, you've probably made it at least partly through 10 Steps to Earning Awesome Grades (While Studying Less). I hope you've enjoyed what you've read so far.
This website builds upon the content of the book. Each week, I publish:
…all dedicated to helping you become a more effective student. You'll find content here on studying, becoming more productive, landing jobs and internships, managing your money, and more.
If you'd like to stay up-to-date on all of that content – as well as future projects of mine – you can join the CIG newsletter.
When you join, you'll also get access to a couple of pretty cool bonuses. First, you'll be able to download the graduation planning spreadsheet I built as a student: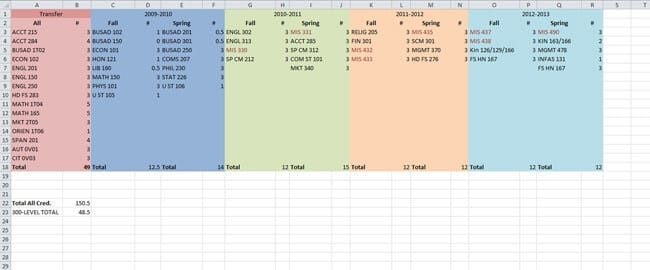 While it's impossible to provide an exact plan that will work for every student, this template can serve as a starting point for developing your own graduation plan – which will help ensure that you'll graduate on time with as little debt as possible.
Second, you'll get access the The Personal Branding Checklist – a document that outlines all the things you can do to start standing out to recruiters and building an online presence. This is something that evolved out of my own list of personal branding goals I had as a student.
Lastly, you'll get a free ebook copy of 10 Steps to Earning Awesome Grades – in your choice of PDF, ePub, and Kindle formats. If you bought the print edition, this is a nice little bonus.
Important Note: 10 Steps to Earning Awesome Grades started out as a free bonus for signing up for the newsletter; due to popular demand, I created a print edition 10 months later and put it on Amazon. I also decided to create a Kindle edition so people who found the book via Amazon could still read it the way they wanted. However, I ran into a couple small consequences when I did this:
Amazon doesn't allow authors to talk about alternative methods of getting a book on their store page, and they also require any book to cost at least $0.99. Even if you got it there, though, I believe you'll enjoy the newsletter and will find the other bonuses helpful 🙂
My entire sign-up process is designed with 10 Steps to Earning Awesome Grades as the bonus – so when you sign up, the instructions and confirmation will say things like, "Your free book will be in your inbox!". Unfortunately, I can't set up a separate process for people coming from Amazon, so I apologize for the confusing sign-up process. Rest assured, though – the other bonuses are on the same special page that holds the book download link you'll get 🙂
Alright, that being said – if all this sounds good to you, just enter your email address below to sign up. (If you find it's not for you, you can unsubscribe with one click on any email)
Looking forward to connecting with you!
– Thomas