Alright, first review of the new year here we go!
When I started reviewing music on this site, I would always just pick something I liked. I wasn't even sure if people were reading these things; I just enjoy music so much that I kept writing them. Eventually, though, I started getting emails from music labels asking me to review material from their artists.
The thing about my reviews that makes them different from the reviews on other sites is that I have to love the music. I don't review stuff just because it's new or popular. If it sucks or is just mediocre, I don't want to write about it. That's why these posts are called Study Album of the Week or Energetic Album of the Week – each one is supposed to be something so good that you can spend an entire week listening to it before you want something new. For that reason, I can't oblige every music label that emails me wanting publicity for their artists.
With that little peek behind the scenes of my writing process as a prelude, I'd like to point out that this review is indeed for material sent to me from a music label. So, is Oh, Great City, the debut EP from North Carolina rockers Future Ghosts, worth the free publicity? Absolutely.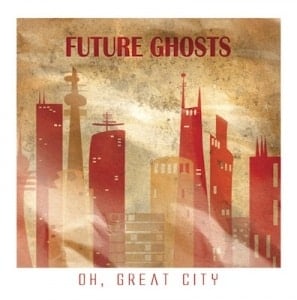 The EP's seven tracks are laden with infectious percussion, fun guitar hooks, and great (and pretty unique-sounding) vocals from singer Aslan Freeman. The band's sound reminds me a bit of The Gaslight Anthem, which I consider to the greatest feel-good rock band in existence, so if you want something that'll make your day a bit better, this will do the trick. I'd also say it's similar to City and Colour, a band that's been featured a couple times here on College Info Geek.
Check out the sample song below – it's the first song of the album, "Spotless", and also happens to be my favorite track.
If you like what you hear, pick up Oh, Great City on Bandcamp or support Future Ghosts by liking them on Facebook.
Also, happy new year! I hope you're all ready to kick some ass when classes start next week. Starting Monday I'll get back to a regular posting schedule, so College Info Geek will be more than just a music review blog 🙂