As a high school student, my preparations for college started with a trip to the library to look for books with "college survival" in the title.
I actually found a few good ones, that that experience led me to keep seeking out books during my college experience that helped me become more effective and stand out.
It also led me to blogs like Lifehacker and HackCollege, which in turn inspired me to start CIG. So, essentially, books are awesome.
"But which books should I read?" – You
Well, in lieu of showing up at your dorm with a dump truck full of books, this week I decided to make a video recommending three of my favorites.
These books will help you build better habits, become a more competitive job candidate, and hopefully keep your student debt low – or nonexistent. Read them!
If you're unable to see the video above, you can view it on YouTube.
Looking for More Study Tips?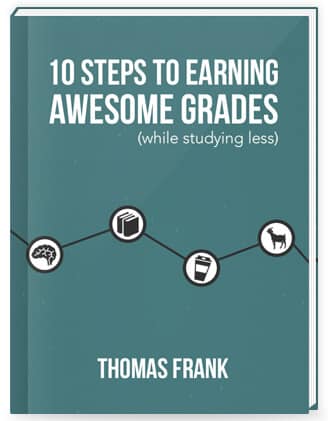 If you enjoy these books, you might also like the book I wrote called 10 Steps to Earning Awesome Grades (While Studying Less) – which is free!
The book covers topics like:
Defeating procrastination
Getting more out of your classes
Taking great notes
Reading your textbooks more efficiently
…and several more. It also has a lot of recommendations for tools and other resources that can make your studying easier.
If you'd like a free copy of the book, let me know where I should send it:
I'll also keep you updated about new posts and videos that come out on this blog (they'll be just as good as this one or better) 🙂
Video Notes
What other books have you found useful as a student?
If you liked this video, subscribe on YouTube to stay updated and get notified when new ones are out!
I also created an infographic for this week's video – if you're on Pinterest, feel free to share it there 🙂