Back during the Evernote Developer Competition, I was pretty excited to see what people would come up with using my favorite software in the universe, Evernote. There were quite a few great ideas and projects, but the one that stood out to me the most was Zendone. According to their description on the contest entry, "Zendone is a personal productivity tool based on the Getting Things Done methodogy. It offers a powerful, well-designed interface for implementing the GTD workflow, using Evernote for collecting and archiving all of your projects and tasks."
What did this mean for me? It meant a brand new productivity-related toy to play with. I love getting organized, and I also love actually getting things done. So, as soon as I got my invite to the beta yesterday, I was practically salivating. Here are some of my first impressions from the service:
Evernote Integration
So far, the service's integration with Evernote seems very simplistic, and at least at the moment, does not interfere much with my current Evernote setup. You sync Zendone to your Evernote account, and your default notebook (I suggest making a new notebook called "Inbox", or "@Inbox" if you want it to appear at the top) is now a landing pad for all of your tasks or ideas. Simply create a new note in that notebook, and when you go to Zendone, it will appear in your inbox for processing. This will allow you to either move the note into another notebook, add tags, or do any other sorting you might need to do within Evernote, or create an action. For example, when right before going to bed last night I had the urge to find the Iowa State University nutrition facts website, instead of interrupting my sleep, I simply made it into a note, knowing I would then see it as a task in the morning. I don't know if I can describe how happy little things like that make me. As you complete your tasks, it will archive the original notes in whatever notebook you designate (I just put them in my previous default notebook), assigning them tags to list them as actions, completed, or deleted. If you want to keep your tags clean, I suggest creating a supertag called "Zendone" and placing all of Zendone's tags inside of it. A sidenote about this, though, is that only the notes created in Evernote seem to be archived there, making it a one-way transfer. None of the projects or assignments I've created in Zendone have been sent into Evernote, at least not for now.
Task Management
Zendone's process for assigning tasks and projects is so simple that I can almost guarantee it's going to help me get more done. There are two sections for tasks that have been assigned: "*do", and "review&organize".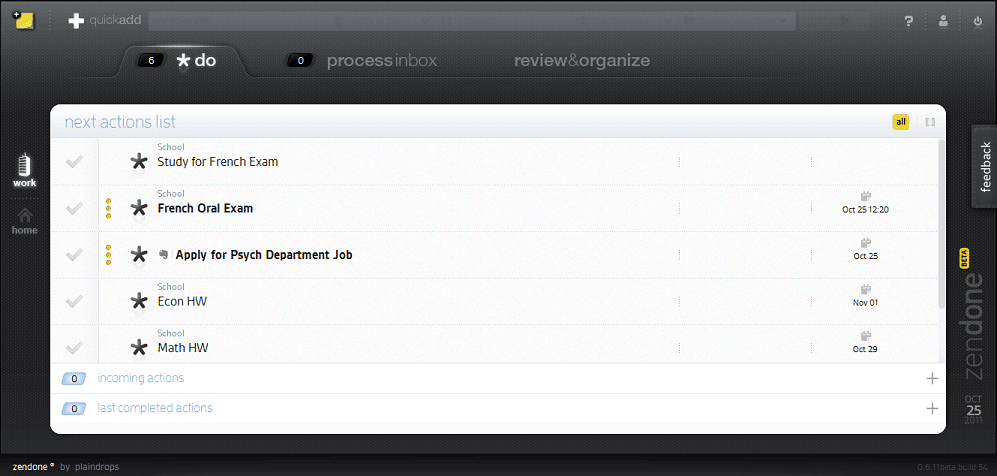 The main tab is the *do tab, listing only the tasks that have been assigned an asterisk next to them, or that have due dates and happen to be due that day (designated by the three yellow dots). Giving an asterisk to a task designates it as being next on your list of things to-do.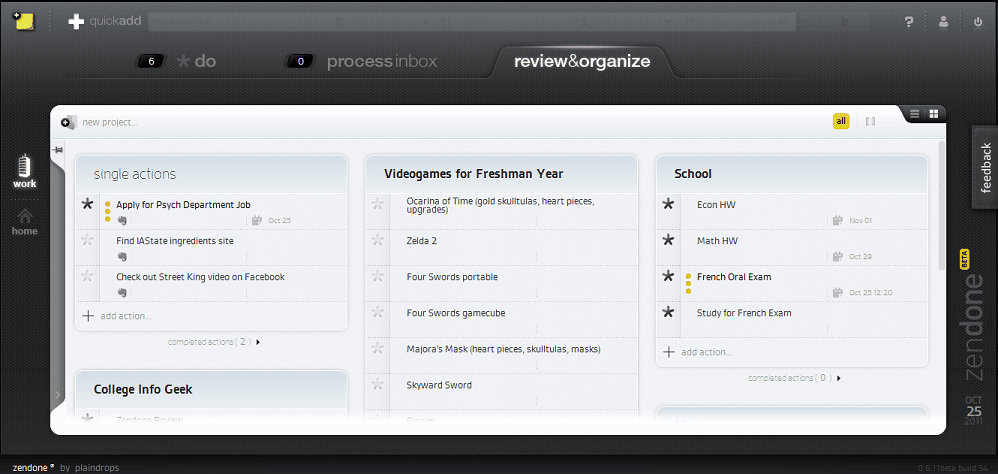 The review&organize tab lists all of your projects, which can all contain multiple tasks within them, either in list or grouped form. I much prefer the grouped layout, but which you use is up to you. Here, you can create whatever projects or groups of tasks you can think of. By default, there is a group called "single actions" for all of your random singular tasks, and so far, I've added a project for school, videogames I need to beat by the end of this year, College Info Geek, and music. Within these projects you can add tasks, adding due dates, if you'd like, and you can assign the asterisk status here. This makes for a great place to start your day, as you can go here when you wake up, assign an asterisk to whatever tasks you want to do that day, and then actually do them.
Now, this is only from my first day of use, on a beta that is likely to add many features both before and after its public release, but with my current level of excitement, I have no doubt it will only get better (especially once they set up mobile access, which they've hinted at). They've got Google Calendar integration for due dates, if that's what you're into, and there's also a pricing tab on the front page that is currently grayed out, so I imagine that there will be a distinction between free/premium versions at some point. For now, why not go sign up for the beta and see what use your life can get from Zendone?