Earlier, I had made a post on how to upload your pictures from your desktop to Flickr. Well, now it's time for Facebook to get some love and nowadays, who doesn't use Facebook?
The twist in this article is that I'm going to tell you two different ways you can upload your pictures to Facebook. Both ways are simple, its just the method that changes between the two. One might work better than the other for you, so you can pick whichever option you prefer. That's the benefit of choice or as I'd like to think, Open Source.

The first method uses the Starry Hope Uploader application. Installation is going to be a little different than my previous posts, mainly because we are installing for a PPA (Personal Package Archive) repository. With that said, the instructions are as such:
1. Open your terminal application by going to Applications – Accessories – Terminal
2. Enter the following two commands one after the other. You will be prompted to enter your password, enter the password you use to login to your computer. You can copy and paste if you'd like.
sudo add-apt-repository ppa:jimjimovich/starry-hope-uploader
sudo apt-get update && sudo apt-get install starry-hope-uploader
3. After it installs, you can close the terminal application.
4. Go to Applications – Internet – Find the application and click on it. You should see:

5. The application is pretty straight forward with its setup. Follow the instructions to sign in.
6. Once you're connected, you should see: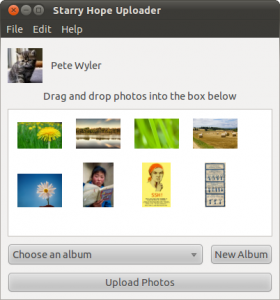 7. You can now drag and drop your pictures and create specific albums for them. Make sure you know which pictures you want ahead of time, because as of right now you cannot delete the pictures once they're placed into the album. I'm sure this little glitch will be fixed and an update will be created, so be on the look out for it.
So, therein lies the first method.
The second method is just as simple as the first. However, in some ways this method and application included have a bit better feature set. The application is named Nautilus Facebook Uploader and was created by a talented Open Source developer. The installation directions are listed on the site, but I'll post them here anyways.
For installation/usage:
1. Download the tar.gz file from one of the download links below. (Direct Link here)
2. Right click on the file, choose Extract
3. Open the newly extracted folder
4. Double click the install.sh file
5. Select run in terminal when the Nautilus prompt appears
6. Select a picture (or multiple pictures) and right click.
7. Go to scripts>>Upload to Facebook
Here's a screen shot of what the application looks like: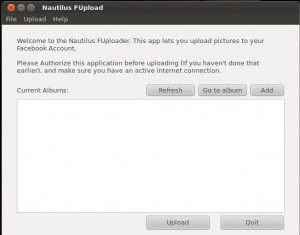 Well, that's really all there is to it. If you have any comments, questions, or feedback, please do post them. We appreciate it.