UPDATE: The contest has ended! Thanks to all who entered – our winner is Andrew Conniff, a student at University of Massachusetts Lowell.
I'm sure the stuff in parentheses is the most exciting part of that title to all of you, so I'll address that first! Yep, we are indeed giving away a copy of Adobe CS5.5 Master Collection, and we've partnered with Mouthy Morgan and our friends at Adobe Students to do it. Details on how to win this $2,600 software suite are at the bottom of this post!
First, however, I'd like to share my picks for the 10 coolest things at the Adobe MAX conference I attended a couple weeks ago. MAX was the first big conference I'd ever been to, and it was also the first time I'd ever gotten a press pass. Needless to say, I was really excited to attend and it turned out to be an amazing experience. A lot of cool announcements were made at the conference, including announcements about Adobe's acquisition of Typekit, the introduction of Adobe Creative Cloud, and more.
Some of the things at MAX where definitely cooler than others, though. Here are my picks for the best ten…
The 10 Coolest Things From Adobe MAX
10. The Biggest Game of Angry Birds EVER
Rovio is a company that just keeps getting more and more successful, and this year they took the stage at Adobe MAX to talk about Angry Birds and how they use Flash to bring it to more platforms. The most impactful moment of their presentation came right at the beginning, when they used the 300ft. screen to show Angry Birds being played. Sure beats the Retina Display. Another thing that stuck out was something Rovio GM Andrew Stalbow said on stage…
"Our fans spend over 300 million minutes playing the game every day." Holy bacon-flavored pancakes.
Check out the video of Andrew's presentation for more.
httpvh://youtu.be/SOzC5sLyihs
By the way, you can play Angry Birds in your web browser now. Even though the website says it's for Chrome, it'll work in other browsers too.
9. The Rubbadub Trick
Near the end of my last conference day, Adobe held a session called Sneaks. In this session they demoed some projects Adobe engineers have been working on – projects that may or may not ever see the light of day. Some of these projects were simply amazing; one of them enabled Photoshop to "weave" layers, another actually "unblurred" blurry photos, and yet another showcased new "liquid layouts" in InDesign. My pick for the coolest one, however, is the "Rubbadub" trick.
Rubbadub is an add-on to Premiere Pro, Adobe's video editing program. The add-on seems to completely fix discrepancies between videos and dubbed audio tracks. In the demo, the Adobe engineer who created Rubbadub took a scene from The Office and perfectly placed an Indian voice over Dwight's lines. Without Rubbadub, the dub is obvious and doesn't look very good; with it, they're perfectly synced. Amazing.
You can see videos for the rest of the sneaks on Adobe TV.
8. Mini-Fantasia in Miama Presentation
This was a presentation we saw that education-based pre-conference the day before MAX actually started. The Mini-Fantasia project shows just how powerful mixed media can be; it merges a ton of rendered video with live symphony orchestra performance to create a truly unique experience for the audience.

7. New Tablets from Sony
Some have deemed 2011 to be "The Year of the Tablet", and that certainly seems to be ringing true. In addition to all the Galaxy Tabs we saw floating around at MAX (there really wasn't any iPad love here for pretty obvious reasons), there were also some new offerings from other companies.
One of the most interesting was the S1 from Sony. This 9.4″ tablet is in stock now and ships with a 1280×768 screen, dual cameras, and Android 3.1. Being made by Sony, it's also got access  the Playstation Suite – an Android marketplace that gives you access to classic PSOne games.
While there are a few things about the S1 that could be improved – for instance, my first impressions of the built-in speaker weren't all that stellar – the S1 seems like it's doing mostly right. Check out Morgan's video on the S1 below for more details.
httpvh://youtu.be/FlAJDL4JLss
6. Unreal Tournament 3 Running IN THE BROWSER
As a huge UT3 fan (I'm really more of a run-and-gun guy; all this Gears of War cover-based stuff isn't my cup of tea), I was blown away by this demo. I knew Flash had come a long way since last year's MAX conference, but when Epic Games staff took the stage and pulled out this bad boy, my jaw dropped.
The game still uses the Unreal 3 engine for all the heavy graphical lifting, but Flash enables it to run in the browser. Just imagine what this means for the future, especially with cloud computing taking such a prevalent stance – we might be logging into Steam from our browsers at some point and playing all our games there.
httpvh://youtu.be/wRbJXeRlwdQ
5. Dwight Schrute Hosts the MAX Awards
Rainn Wilson – better known as Dwight Schrute from The Office – was the host of this year's MAX awards. I'm sad to say I didn't get a photo-op.
4. Photoshop Touch
Adobe introduced quite a few new apps for tablets at MAX, but the one that definitely stuck out most was Photoshop Touch (this was evident by all the blogger surrounding reps for Touch, rather than the other apps, during the press lunch I attended).
While there's already a mobile version of Photoshop out there, Touch aims to be much more powerful and useful. Adobe is positioning it as an option for designers who want to get out of the office for a while, or who need to do some design work during a trip.
Photoshop Touch has some really cool features, one of which is 3D Layers. Using your fingers, you can actually rotate your composition in order to see your layers from a 3D perspective. While this doesn't affect the final project, it does allow you to see how your layers fit in with each other. Plus, it's just really cool.
Check out Morgan's video feature to get more details.
httpvh://youtu.be/vdX0wUr4IfI
3. The Adobe MAX Playground
Adobe certainly didn't pull any punches when it came to the conference show floor. In addition to booths for multiple companies, they also set up the "MAX playground", which included triple-monitor gaming stations running Dirt 3, basketball hoops, Angry Birds stations, a Lego area, and more.
httpvh://youtu.be/uzW99o09h14
2. The MAX Bash
If the MAX Playground was the entertainment appetizer, the MAX Bash was the main course. This huge party took place right after the Sneaks session right outside the Nokia Theater, and it was awesome. They had eight different food trucks with unlimited food, live music from String Theory, people doing flips, and the freakin' Super Mario Bros TV show running.
The bash culminated in an awesome performance from Weezer. I've never been to any other big conferences like this, but MAX's party certainly impressed me.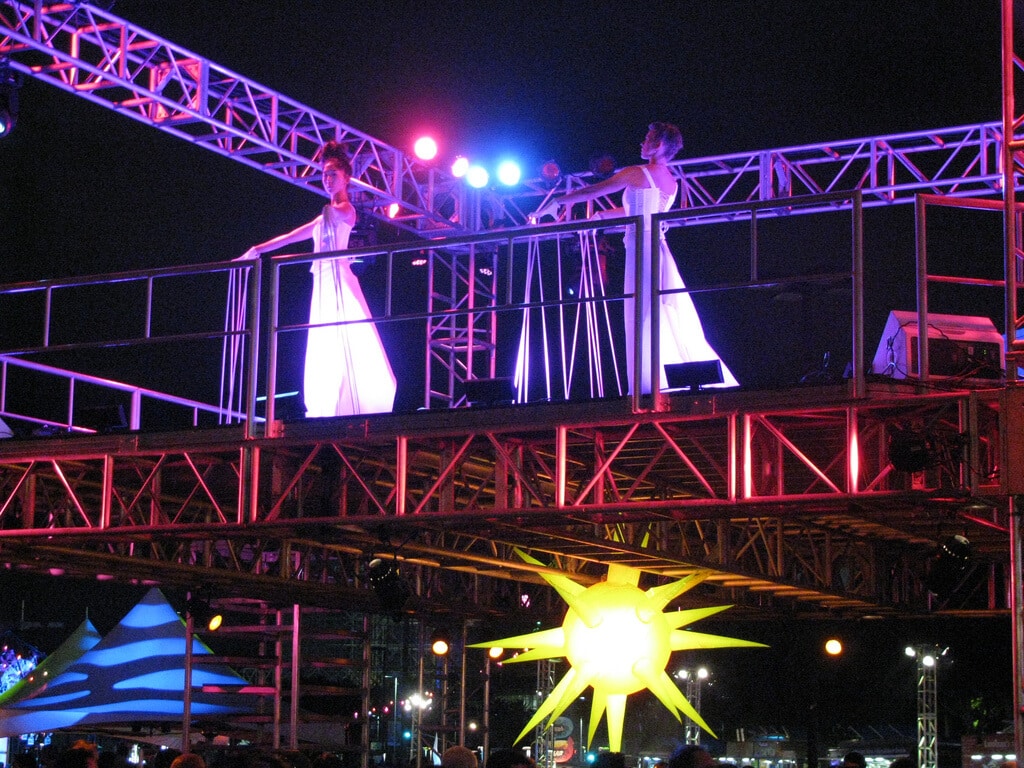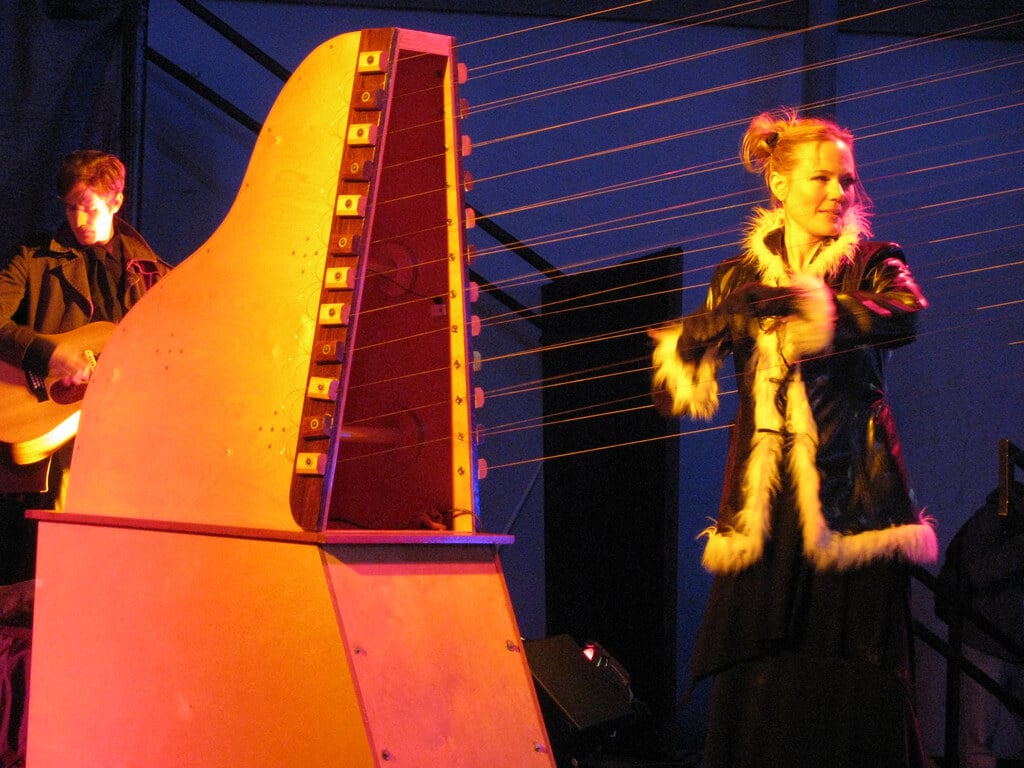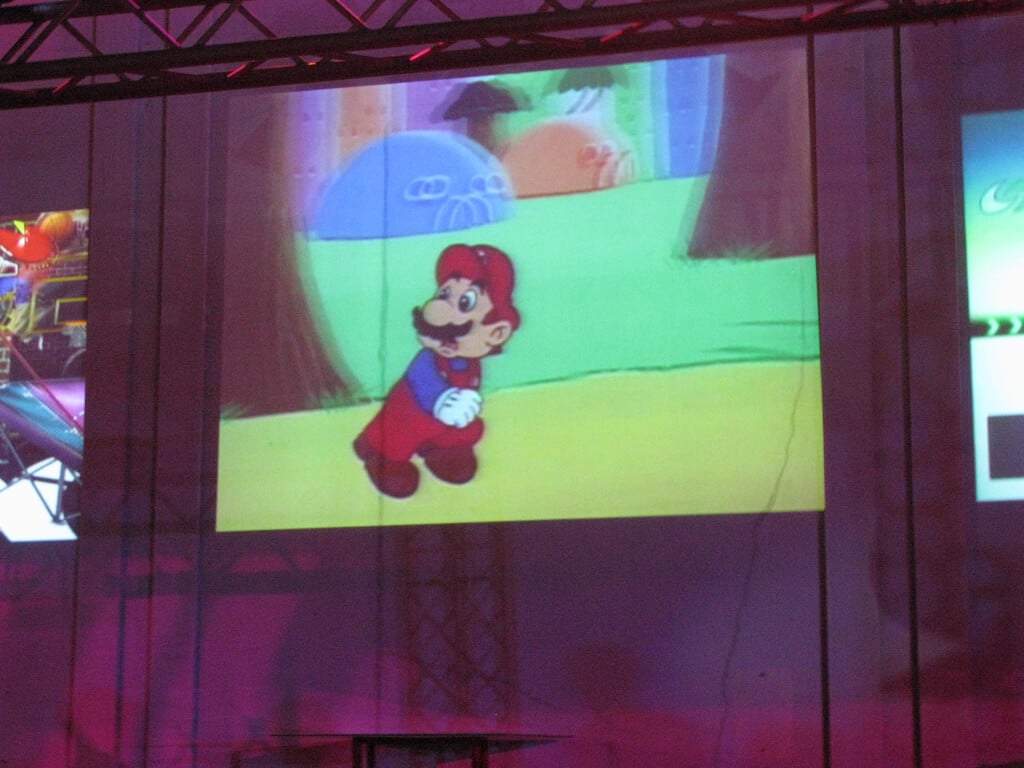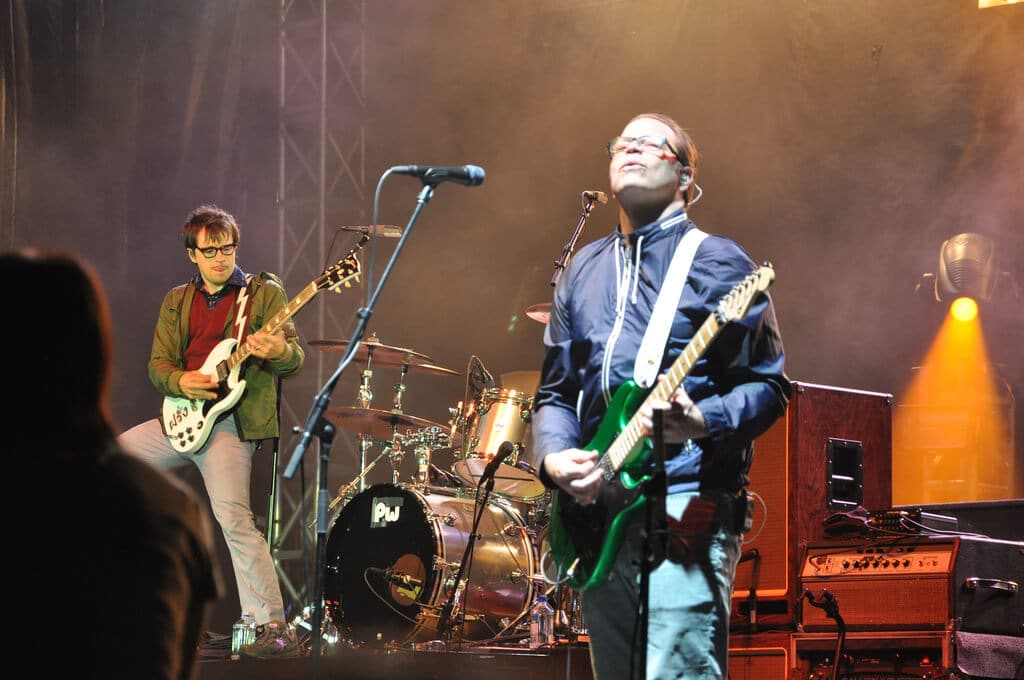 Weezer photo by Flickr user nawilloughby
1. Adobe's HUGE Projection Mapping During the Keynotes
Out of everything shown at the MAX conference, this is still what blew me away the most. I'd seen projection mapping videos on YouTube before, but never had I seen it done in real life. This projection-mapped video graced the 300ft x 50ft screen in the Nokia Theater on both keynote days of the conference, and it was simply amazing. Check it out.
httpvh://youtu.be/BfY5h1vq9dw
CS5.5 Master Collection Giveaway!
Alright, so here's the part you've all been waiting for… yes, we are indeed giving away a copy of Adobe CS5.5 Master Collection. So, you want to get your hands on this badass prize? Here's what you need to do…
Head over to our Facebook page and find the link to this post.
Leave a comment on the link telling us what you think is the coolest thing from Adobe MAX. It can be something from this post, or something else you heard about elsewhere. (Your comment needs to be on our Facebook wall post, not on this actual post here)
Click Share to share the post on your Wall. Write a description of the link saying something to the effect of, "College Info Geek and Mouthy Morgan are giving away a free copy of Adobe CS5.5!" Make sure you tag both College Info Geek and Mouthy Morgan in your description. You can tag the pages by starting to type "@College Info Geek" – you should see our page show up as a suggestion. Click it to tag it. You need the tags in your description so we know you've entered.
That's it! We'll run this contest until 11:59 PM on October 31st. At that time, we'll pick random winner from the comments on the Facebook post. If you're picked, we'll check that you've shared the link and then send you details on claiming your prize! Good luck! This contest is open to U.S. residents only. Full rules can be found here.