Do you have a desert island album? You know, that one album you'd choose to keep if you were marooned on a desert island and couldn't listen to anything else – the album you never get tired of. If you do, what is it? A classic, like Led Zeppelin's "Physical Graffiti"? A fun album, like Katy Perry's "Teenage Dream"? Something to hasten your departure from the living world, like 3Oh!3's "Want" (or, if you're feeling especially suicidal, Shaquille O'Neal's "Shaq-Fu: Da Return")?
Whatever your desert island album is, you probably have good reasons to justify its special place in your heart. Maybe it's full of bombastic passages and inspiring lyrics that make you want to celebrate. Maybe the instrumentation is so good it makes you feel talented just listening to it. Maybe the singer's a total babe.
For me, desert island album candidates must not only be amazing,  but they must also be diverse. There are days when I swear I'd rather listen to death metal for the rest of my life than anything else – and then the next day I wake up and decide trip-hop is better. Given my varied taste, most albums can't hold my continued interest for more than a week.
That's why "The Color Spectrum" is so special.
With this album, The Dear Hunter have created a work of art that represents the feelings you would typically associate with each color on the color spectrum (plus white and black). This album, which is actually a compilation of nine EPs, is a behemoth piece of music that is comprised of 36 tracks and offers up around two and a half hours of music. The thing is… all of it is fantastic. There are no fillers here. There are no crap tracks. Every song is a work of art in its own right, filled with talent and passion that most songs lack.
When I say this album is diverse, I mean it. No, you won't find any screaming death metal or Basshunter-esque tracks here, but the album spans a lot of different genres, tempos, and moods.
The album starts with the Black EP. Black is full of dark, brooding rock that makes you feel as if you were staring out at a post-apocalyptic landscape. Red injects the rock from Black with a lot more passion, though it's passion without much focus. Orange pulls this passion in and funnels it into a classic/blues rock vibe.
After the focused energy of Orange, The Dear Hunter moves to pure bliss with the poppy, care-free Yellow. Green takes on a more somber mood, utilizing a lot of piano and slide guitar. You'll almost think you're listening to country at certain points. Blue proves to be the most peaceful and somber of the bunch; indeed, most of the time on the album is dedicated to solo instruments and Casey's voice alone. This EP makes you feel like you're on a beach in Hawaii, or maybe sitting alone on the bleachers next to an indoor high school pool (there are lots of echo effects).
Indigo really shakes things up, injecting elements of electronica  into the mix. No, this isn't Darude, but it shows a side of The Dear Hunter we haven't seen before. On the opposite end, Violet is reminiscent of The Dear Hunter's past work, as it is comprised of bombastic, theatrical songs with lots of gang vocals and stringed instruments. White rounds the album out with a variety of rock that is very optimistic and forward-looking.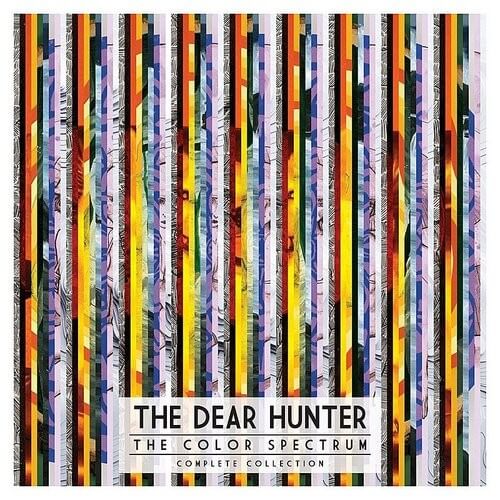 There are so many good tracks on this album, and they are so diverse that it's hard to pick the standouts. However, there are a few that I feel deserve mentioning. "But There's Wolves", the finale of the Orange EP, features an amazing guitar solo that, frankly, I never expected out of The Dear Hunter. Violet's "Mr. Malum" has such an ominous and lively feel to it, and it's probably my favorite song on that EP. Black opener "Never Forgive Never Forget" features some deliciously varied percussion that will probably get stuck in your head.
All in all, "The Color Spectrum" is a masterpiece. It's one of the most ambitious albums ever made, and it completely succeeds in conveying all the feelings and emotions we associate with each color on the spectrum. This is one album you need to listen to.
In the playlist above, I've included one song from each EP for you to sample. I'm confident you'll be hooked – when you are, the full album is waiting.