After three years of living with a variety of different roommates, I understand how hectic it can get trying to make sure everyone is sharing an equal burden. Over a given school-year, cleaning the kitchen, doing dishes, and other house responsibilities fall by the way side, resulting in an apartment that resembles more of a disaster zone than a living space. What's even more, with houses that have a different person handling each utility and house supplies, debts can be lost in the shuffle as well. My past apartments have tried using a person vs. person matrix (as seen below) on a whiteboard, but this "debt-board" system runs into some major limitations:
Lack of accountability for changes made to the debt board. When there are a large number of roommates living together, keeping track of who owes what is a huge hassle. Even worse is when you find a different debt number every day because of the variety of things that need to be paid for.
No dry-erase markers left? Guess that means you can't change the debt board.
No due date for each debt. When all debts are consolidated into a single number there can be a lack of urgency in payment.
Throwing a party? Better remember to hide your debt board away lest you enjoy a whiteboard that displays "interesting" artwork rather than debts.
As College Info Geek readers are always ones to look for better ways to get things done, I propose a Google doc spreadsheet as a better alternative to managing house debts. Saved automatically online, the process is pretty painless; I created my spreadsheet in less than 10 minutes. Even better, a Google doc spreadsheet excels in each of the ways in which a typical debt board fails.
What are the benefits of using Google docs to manage household debts?
All changes are automatically tracked via "Revision History." Want to see why you suddenly owe someone $40 out of the blue? Check who made the change via File>See revision history. Although you may be BFF's with your housemates, transparency is a key issue to maintain in sensitive issues such as money.
The spreadsheet is kept private to only your housemates. By privatizing your document to only the emails you select, you can keep debts stored online and away from the artistic yearnings of others.
Nearly unlimited flexibility. As I noted before, an issue I ran into with past debt boards is that there lacked any detail to go along with debt additions. With this new system, each new debt is given it's own row with a column for debt per person, pay by date, and who to pay to.
"This sounds great! But, Ryan, how do I make it?"
I'm glad that you asked. Creating your very own household Google spreadsheet is a fairly simple process.
Sign in with your Google account and visit here to create a new spreadsheet.
Click on Create new>Spreadsheet. This will pull up a blank new spreadsheet for you to edit.
Set up your spreadsheet in a fashion similar to this picture: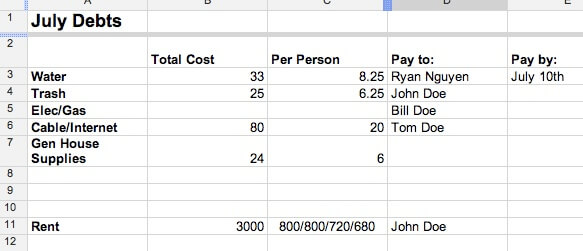 In the upper-right hand corner of your screen hit "share" and you can enter the emails of your housemates. They will be notified of your new amazing household debt system.
Set privacy settings to make the document private to only the people you have invited to the spreadsheet.
There you have it, an amazing (and FREE) new system to manage your household debts. No more messy dry-erase boards and a lot more accountability. Now, the only thing that should be coming between you and your housemates are those strange ramen-smelling leftovers that are lying around the place.
How does your living arrangement manage debt issues? What are some of the benefits or downfalls? I'd love to hear them in the comments or you can send me a tweet @PracticalPremed!