I'll be honest: I spend a good portion of my day just hopping around the internet from site to site, not getting much work done. Could I be using my time better? Probably, but on the bright side, I do come across some pretty interesting stuff every so often. When I do come across stuff like this, I'll usually tweet it out so my followers will be able to see it and get distracted from their own boring work.
Unfortunately, I do a lot of my web browsing late at night. When it's 2am in the morning, sending out a tweet about a cool article isn't likely to make that large of an impact. Since no one else is awake, my tweet will get less views. Less views means less clicks, less clicks means less engagement, less engagement means I fall into social obscurity and end up playing Contra in my mom's basement for the next 20 years.
Alright, maybe it isn't that bad. Still, I wanted to find way to make sure more of my followers would see the stuff I was sharing. Luckily, as with everything else, there's an app for that. It's called Buffer.
Basically, Buffer is a tweet scheduler. When you find something cool to share (or just want to tweet about the epic plate of bacon you just ate), you can throw the tweet in your Buffer and rest assured that it'll be posted at the best possible time.
Recently, the Buffer guys (who I know fairly well, actually – they're pretty awesome) just posted some cool usage data on their blog:
"People that start to Buffer their Tweets increased clicks on links they posted by 200% within 2 weeks of use. The amount of retweets doubles on average. Finally, Buffer users increase their follower count by 104 followers within 3 weeks, on average."
In addition to those statistics, the developers have claimed an average Klout score increase of four points within two weeks of Buffer use. Now, as with all claims, this must be taken with a grain of salt; obviously, the specific people who follow you, your actual number of followers, and the content you tweet will all come into play. However, in my personal experience, I did see a pretty large Klout score increase when I started using Buffer. It could have also been attributed to better Twitter usage in general, but using Buffer certainly didn't hurt anything.
So, what exactly does Buffer do, and why would you want to use it? Here are a few good reasons:
Optimize the Timing of Your Tweets
The first and foremost reason why Buffer is useful is that it allows you to schedule your tweets so they'll go out at the best times. I like Buffer's way of doing it better than, say, TweetDeck's, HootSuite's, or Timely's, because you can choose your own times, but they stick (instead of you having to schedule each and every tweet). Buffer recently made an update that lets you define different times for different days, so the control has improved even more.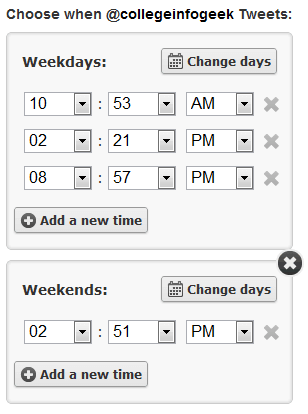 Tweet from Any Page
Buffer's browser extensions make it really easy to schedule tweets from any website you are reading. There is an extension available for Chrome, Safari and Firefox. Here is what it looks like: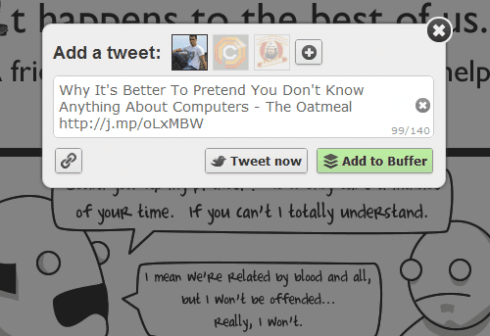 Buffer claims that this "triggers users to add 150% more Tweets to their Buffer whenever something is interesting." Frankly, the extensions are pretty conveneint, as they make filling up your Buffer from wherever you are super easy. I even use the Chrome extension for tweeting things in the present, as it auto-shortens links, and the Bit.ly extension doesn't actually let you tweet things.
Other Features I Freakin' Love
Full Tweet Analytics
Buffer also comes with a few very interesting features that help me understand a lot more about my tweeting habits. Whenever you Buffer a tweet, you will get full analytics telling you about the number of clicks, retweets and reach you had: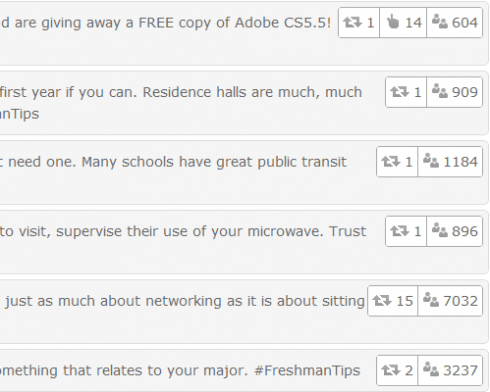 Twitter.com Integration
Another great feature is that you can schedule tweets directly from Twitter.com. Simply hit the Buffer icon on any tweet, and it'll be thrown into the queue as a retweet. This will allow you to retweet more of your followers, without flooding and spamming anyone's stream.

An Android App!
Buffer also has an Android appto make adding Tweets to your Buffer from on the go a lot easier. The app lets you share pretty much anything you want on the go, so those of you who want to be connected while waiting for the dentist are in luck.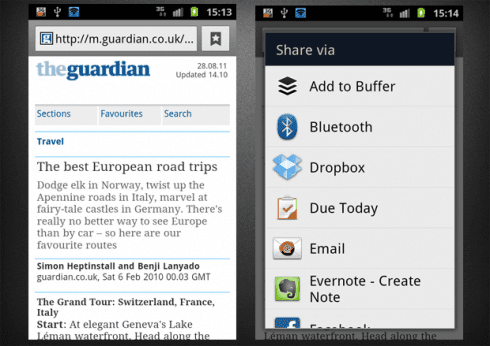 Wrap-Up
Buffer is one of my favorite Twitter tools, and it's really nice to use in conjunction with other tools like HootSuite. The ability to schedule tweet times once (but still have control over those times unlike with Timely), is really nice. If you're looking to tweet more effectively, give it a try!