Productivity-minded students know that distractions are the primary culprit of poor study habits. "Suggested friends," fancy sidebars, and ads promising you multiple iPad 2's all have a certain way of distracting students from a task at hand. Face it, how many times have you went online to read an article, only to find yourself browsing through five completely unrelated websites an hour later? Distractions can be pesky things indeed.
As an advocate of deep-focus, interruption-free work and study blocks, I'm constantly on the lookout for ways that I can eliminate distractions when I'm working. Sometimes this involves making a trip to a local coffee shop away from my roommates, turning off my phone, or even (gasp) logging out of facebook and twitter. Evidently, there are tech-savvy people crazier about productivity than I am, which has led to several free apps that can help reduce distractions as well. I've always been a huge fan of Evernote, and it seems the folks behind the note-recording masterpiece have added another productivity-minded app to their arsenal of tools.
Evernote Clearly is a delightfully simple app that does one thing, and it does it quite well: it eliminates distractions. Specifically, Clearly offers a dynamically simpler way to read online articles by removing all clutter and sidebar links. To give you an example of how this works, let's look at a recent article from CIG using Clearly.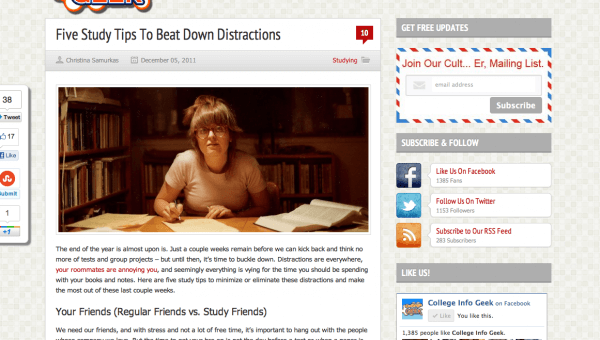 In addition to the article, the page has multiple links, an invitation to join a cult mailing list, and other ways to connect with us at CIG. While you should click on all the links at some point (Thomas totally didn't offer me a million internet points to say that), sometimes it's best to get a bare-bones version of the article for streamlined reading. The Clearly app does a great job of isolating the article, and with a simple click of a head-lamp icon button (the designated turn on/off button for Clearly), and the resulting image is remarkably cleaner.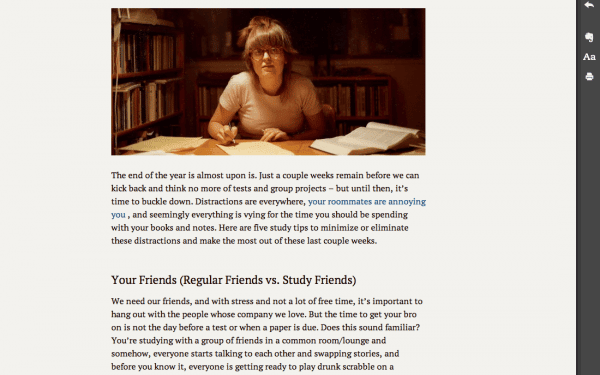 In addition to cleaning up articles, Clearly also converts multi-page articles into one page, and offers direct clipping via the Evernote icon on the right sidebar. It's quickly become one of my most used applications, and has made reading blog posts infinitely more enjoyable. At a whopping cost of $0 dollars, this application is a no-brainer for productivity-minded and cash-strapped students.
What other apps do you use to eliminate distractions?