Alright ladies, gents, bros, hos, kids, tools, and caffeine-addicted computer nerds who only read the first few sentences of my articles before going to 4chan… I have a confession to make.
After being a long-time Grooveshark user, I've recently switched to using Spotify. Why? Well, to be honest, the only thing Grooveshark has going for it is an abundance of music that nobody else (other than YouTube) has. I liked Grooveshark for a long time because it's got lots of video game soundtracks, anime music, and other obscure stuff that I couldn't find anywhere else.
However, the site itself is incredibly disorganized. After doing some research for an upcoming (and much-needed) update to my streaming music site guide, I've decided that Spotify will suit my needs much better.
Though it may not have quite as much music as Grooveshark, Spotify does literally everything else better. It's much better organized, runs smoother, and has a much, much better mobile app.
Anyway, enough about Spotify. I'll wax poetic about its awesomeness again when I actually get that streaming music post updated. Today I want to talk to you about something else, and that's College Info Geek Radio.
Yep, College Info Geek Radio.
Even though I do frequent music reviews on this site, I can't even come close to sharing all the music I find and love. Writing a review for every album I fall in love with would simply be too much work.
Fortunately, I've found a nice solution to that problem.
While browsing through Spotify's app directory (another awesome feature of the service), I came across an app called Soundrop.
Soundrop is an awesome service that lets you create listening rooms, and then add songs to that room that will play continuously. Even cooler, anyone in the room can vote up songs they want to hear sooner. Songs with the most votes will be played the soonest.
This site is similar to Turntable.fm, but it lives inside of Spotify and uses the Spotify library. Because of this, I find it much easier to add new tracks when I discover them.
So, through Soundrop, I've been able to create College Info Geek Radio.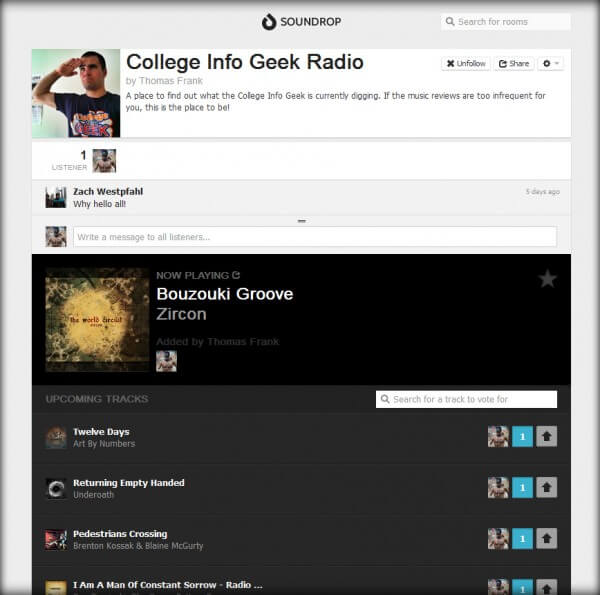 This is just a Soundrop room where I add all the music I'm currently digging. If you'd like to discover some new music or just have a big playlist to kick back to, then this is the place! Like in any other Soundrop room, you'll be able to vote up songs you want to hear sooner.
I've set the room to "Curated" mode, which means only I can add songs, but anyone can vote for the ones they want to hear sooner. Other rooms do let anyone add songs; however, the point of this room is for me to be able to share what I've discovered, instead of it being a giant community playlist. Plenty of rooms already exist for that purpose.
However, if you'd like to suggest a song for me to check out and possibly add, you can easily use the chat function at the top of the room! You can also suggest stuff for me to listen to by contacting me on Twitter 🙂
Why I Like "Radio-Style" Listening
I originally contemplated just making a huge, public playlist of all the songs I like… but then I had a thought.
Maybe it has something to do with human psychology – like Hick's Law – but when I have unlimited musical choice, sometimes I just don't know what to listen to. Sometimes, it's just too much.
However, with a radio station, I don't have to worry about choosing what to listen to. If I'm working on a website or something and want some music to listen to, I don't have to think about it. I can just hit play and trust the station to play something good. I think this is why so many people love Pandora.
Because of this, I decided to create a radio-style listening experience instead. However, I believe Soundrop gives us the best of both worlds, as it lets you upvote songs you want to hear sooner. In this way, I have a bit of control over what I want to hear next – but I can still just let it go if I'm not in the mood to choose.
This room has been open for about six days now, and even though I've been the only person using it up until now, I still prefer it to my playlists for some reason.
So that's the explanation behind my choice of Soundrop.
Open Minds Only
Be warned: my taste in music is incredibly varied. This means that you'll find all kinds of different music on College Info Geek Radio, ranging anywhere from solo piano, to post-hardcore screamo stuff, to rap, to Korean pop – and anything in between. If you're the kind of person who only likes one kind of music, you might be a little overwhelmed.
However, if you're into all kinds of genres and want to discover new stuff that I wouldn't have time to review, then come on in!
Soundrop also has mobile apps for iOS and Android. I'm not sure how well the Android one works, but right now the iOS app crashes frequently. It does work, and I still use it often, but the crashing issue does need to be fixed. Once they do fix it, I'll update this post accordingly.
So what are you waiting for? Get Spotify if you don't have it yet (it's free), and then head on over to College Info Geek Radio!
Tell your friend about College Info Geek Radio too! Click to send a really stupid tweet
Oh, and if you're wondering what the left logo in the header picture is… it's my other logo. See, College Info Geek is so legit that it needs two logos. That one's been the favicon for quite a while too 😉