Growing up, Allen Gannett was always fascinated with technology and education. At the age of 11, he jumped at the opportunity to design his first website, which he calls "a horrible old-school HTML news website for my grade school."
Allen continued to dabble in projects growing up, but education remained his primary concern. In 2010, he had a revelation that "most of the problems we see in education, particularly around college access can be solved in a cost-efficient, scaleable way through technology."
After putting together the initial concepts and plans to solve this problem, he met Anton, a fellow student interested in the cause, and the two co-founded their own company, CampusSplash. The company was established with a simple, unifying goal from the start: to close the information gap present in access to educational information due to socio-economic status and location.
The first project born out of the company was AdmissionsSplash, an application that predicts college admissions success. Receiving media attention from the likes of CNN, The Washington Post, Mashable, and The Huffington Post, AdmissionsSplash has been a tremendous success, having predicted the admissions success of over tens of thousands of students. Allen is confident the application will confront the problem of too many high school students under-applying to colleges because they think they can't get in.
With the tremendous success of AdmissionsSplash, Allen and Anton took on the even more ambitious project of confronting the information gap in education. Out of this, CampusSplash was born with the goal to "provide a common set of knowledge around education search, where every questions about every college and grad school was answered online in an easy to consume way."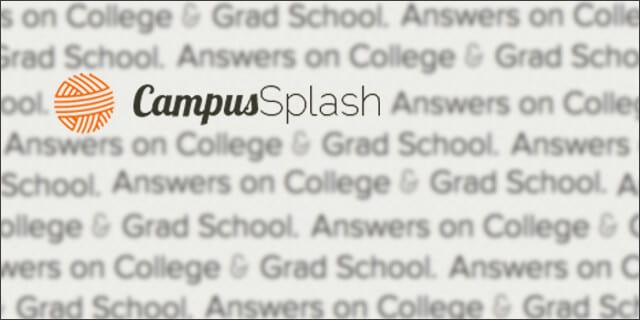 Just over a month old, the CampusSplash application has already had over 3000 questions asked on a range of over 2000 topics. Again, this ambitious project has already garnered attention from both the college and tech worlds (we even had an article on the application when it first launched written by CIG head geek Thomas Frank).
What Can We Learn From The Success of CampusSplash?
Education takes place outside the classroom, too.
You'll notice that Allen didn't just join the tech club at his college and parade that position as evidence of his leadership skill to future employers. Rather, he identified a problem he wanted to solve and sought to confront the problem head on by creating a solution. Born out of this act of creation was a company, a movement, and a college experience unlike 99.9% of other college students. As Allen states, "…starting a company is a much better experience than classes because it allows me to understand human system and institutions in a really comprehensive way. Additionally, I've meet more people in a week running a company than I usually do in a year of being a student." Simply put, learning by doing and creating, has a much faster learning curve than sitting in a classroom and studying for tests.
Make your movement bigger than yourself by empowering your community.
What strikes me most about the CampusSplash application is that information is asked and provided entirely by community members. The team at CampusSplash has realized the tremendous power of crowd-sourcing information, and has empowered community members by giving them the means to communicate with each other. Allen and Anton are leading students in a movement by giving students the power to cause the change themselves. The movement has become bigger than any one person and has experienced it's tremendous success because of that.
Challenge the status quo to emboldened followers to your cause.
Allen and Anton saw a problem in the current education system and have sought to deliver an innovative, cost-efficient solution to remedy this problem. The status quo for access to educational information is that is is limited for students based on their socio-economic background and location. In a world of instant connections and communication, Allen and Anton felt this could be solved through technology. Along the way, they've managed to target out, and rile the feathers of, the current state of college counselors and experts. To give you an example of this targeting of the status quo, Allen begins an article he wrote for the Huffington Post with, "College counseling is a mess." While the current collection of private and public college counselors may not appreciate this sentiment, the attention Allen has drawn for this movement is commendable. More importantly, student see this passionate challenge to the status quo and are emboldened to join the movement.
To summarize: Allen's decision to galvanize a movement of students behind an ideal, the decentralizing of educational knowledge, has led to a college experience unlike 99.9% of other college students. The tremendous success and attention that CampusSplash has garnered stands as a testament to the new brand of leadership in a 24/7, instant-communication society. As Allen shows, leadership is no longer just being elected to a club officer position and telling people what to do, it has evolved into empowering other students to create their own change for a movement they believe in.