This is a guest post from Lauren Gabel, one of my really good friends at Iowa State. We used to be RA's together, and now we've both decided that travelling and not dealing with people who lock themselves out of their rooms is more fun. Here are some tips she learned on her own study abroad trip.
So hopefully if you're reading this, you have already been inspired by Maria's Top 10 Reasons to Study Abroad or even Thomas's post about unicycling from the east coast to the west coast blindfolded with a video camera. (I could have the exact details wrong).
Either way, I hope you have been inspired to go on a radical adventure that has few guarantees other than the promise of taking you out of your comfort zone!
Personally, I did the study abroad adventure, and based off of my experiences I assembled a short list of tips for anyone looking outside of their own back yard.
There are a few basic supplies that I've found helpful. Get yourself an iPod Touch or any other small device that can connect you to the internet. Trust me, during my travels I wanted to escape technology too, but that wasn't going to stop my mother from wanting to know if I survived my flight from Paris to Edinburgh.
I would also recommend a small rolling suitcase or a good-sized backpack. Some of the discount airlines have severe restrictions on how big your carry-on luggage can be and I'd rather spend the 20-euro on a souvenir than on a checked baggage fee.
A camera is also a must. No kidding, I might even put the camera priority above socks or something. It's that important. There's a Matt & Kim song about not having time for cameras and to just use your eyes instead. That's good advice, but some things just need to be captured. Like this guy we saw at the beach doing yoga hand stands: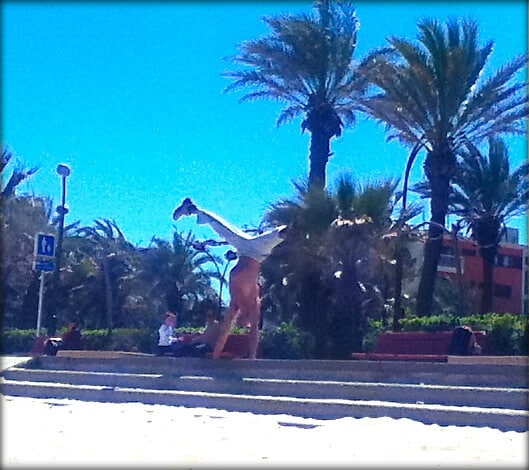 Even if you're not into pictures of yourself, you will inevitably find photo-worthy opportunities.
Don't be afraid to walk around and get lost. Wherever you go, you are going there to be truly a part of the city, of the atmosphere. Bring a map with you if you want to, but otherwise allow yourself to (safely) get lost in wherever you are.
I found this was especially important if I started to feel particularly homesick. Discovering a new favorite shop, food, or view will help remind you that taking a sabbatical from all "normalcy" can really be enjoyable.
That being said, it is also OK to feel a little homesick from time to time. Set up a Skype date or pull up a Facebook chat and indulge in good conversation from the ones you love at home. Remind yourself that people at home miss you and care about you, then go for that walk.
Spend all of what you're comfortable spending. (Don't go plunging yourself into debt now) But dropping the cash to see a new city or a really sweet looking museum will be totally worth it like 99.9% of the time. Besides, people tend to value their experiences more than their possessions and you never know if/when you will ever find yourself in the same situation.
Don't hesitate to pay a little extra for safety. If it's the middle of the night in Amsterdam and you can't remember how to get back to your hostel, it's more than ok to call a taxi. A few extra Euros is a small price to pay for your peace of mind and probably your well-being. It'll make your mom feel better too.
Last but not least, go forward on your adventures with confidence. When you are with friends or new acquaintances, enjoy them. And when you are alone, take comfort in the discovery that your own company is one worth keeping.