Right as March was ending, I saw my friend Bud Hennekes tweet this out:
Think I'm gonna do a 30 day trial of running everyday in April.

— Bud Hennekes (@Aboundlessworld) March 31, 2012
Since my own workout habits had been slipping, I decided to join him. I'm happy to report that we've both gone nine straight days running without a single skip!
The coolest part, however, is that other people joined. We now have a group of about six people on Twitter who are all running every day. Each of us is driven by the motivation everyone else contributes, and to date no one has skipped to my knowledge.
So today this thought popped into my head:
"Why not get others involved?"
And that's exactly what I want to do now! This is my formal invitation:
Join Me and Run Every Day Until Semester's End.
That's about a month from now, so those of you just joining in will get the same full month that us April runners are getting. I'm committing to running through the semester's end myself, and will try to keep going past that until I start my summer travel (details on that coming soon).
So, you're joining up, right?
Good. Here are the details. We've been using Twitter to communicate and keep each other going, so that's what I think we'll stick with. I've created a hashtag for this event, so when you tweet out your daily run report, include #SemestersEndSprint to get in on the action.
If you have a smartphone, I highly recommend using RunKeeper to track your runs. It uses GPS to do so, but you can also use manual entry if you just can't run with your phone. If you need to map out distances manually, use MapMyRun from your computer.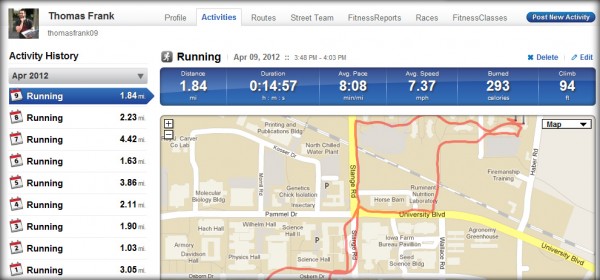 Here's the Most Important Part.
You need to keep yourself accountable. The only way I've kept motivation high enough to run every day is by reporting in to my Twitter run group. If I didn't have them, I probably would have skipped a day by now.
So, if you've decided to start up, keep yourself accountable right off the bat. You can start off by following me on Twitter and letting me know you're in:
Alternatively, you can leave your Twitter username in the comments section. If you let me know you're doing this, I'll add you to my runner's list and make sure to chew you out if I don't see a tweet from your every day. Consider that your motivation.
However, I highly recommend you take it a bit further and form a small group of runners that you can rely on for motivation. Since Twitter only gives you 140 characters, I'd suggest making a group of around five people. Any more, and you use all your characters mentioning people.
So Get Started!
I can't wait to see how many people take part in this challenge!
***********
Is this too easy of a challenge for you?
Here's another challenge – build your own website! It's easily one of the best things you can do to prepare for your next internship hunt. Think you're not enough of a geek? Sit down, son – it's really not that hard. You can use my website building guide to get started. Oh, and did I mention that you can win an iPad for building one? 
If you want to get updates when I release more great content like this in the future, be sure to sign up for my email newsletter below!
***********