Wow! So, I think this is the longest I've gone without posting for over a year. Let me assure you that it certainly isn't out of sheer laziness – no no no no no.
Laziness is only half of it.
Seriously, the past 11 days have been some of the best days of my life. The amount that I've discovered and experienced in this period of time is unrivaled. It's simply amazing, and if you (for whatever reason) decide to click away from this post after reading this paragraph, let me offer you one piece of invaluable advice: travel. Don't consider it – do it.
Unfocused raving aside, let's get to the business at hand. I've been very busy in Japan for the last week, and I can't wait to show you all that I've been doing. However, first I want to give you a peak at the first part of my epic journey – the Adobe Days event in San Francisco. The first thing I have to say about this trip is…
Dear Lord, There are Other People Like Me in the World.
Allow me to explainticate.
I've known about most, if not all, of the other college blogs out there for quite a while. Soon after I started blogging myself, I made it my mission to seek out all the other student-focused blogs and get to know the people behind them.
After a while, we started a Facebook group to collaborate, and I even Skyped with a few of them. However, the relationships were mostly professional.
Given this context, I subconsciously assumed that, even though there were plenty of students running great blogs just like me, I was pretty much the only one who was a geeky anime/video game fan who played way too much DDR.
And then the first things we talk about when we all meet are shows like Baccano and Korra. As it turns out, many of the college bloggers I only knew through the internet share a lot of the same interests that I have. My mind was and is still basically blown.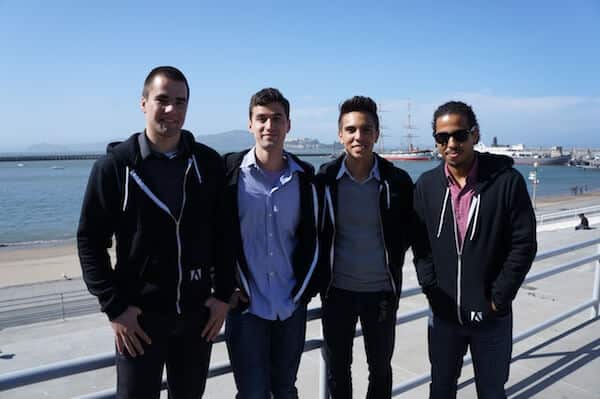 Because of this, Adobe Days was an event I'll never forget.
So, What Was Adobe Days Anyway?
As you may or may not know, Adobe is the company I work with the most when it comes to this blog. Out of all the sponsored content on College Info Geek, Adobe content probably makes up 50% or more.
Why? Well, there's more than one reason. The main reason is that I use the Creative Suite every day; it's helped me build my personal brand to the level it's at right now and also enabled me to build a creative side of myself I never thought existed.
Before I started using Photoshop out of necessity (designing business cards for my high school web design business and doing web layouts), I didn't think I had any artistic talent. That was my brother's department.
However, as I got better with the tools, I also found that I could be creative. I discovered that proficiency with the tools allowed me to more vividly imagine things I wanted to make, since I already knew I could make them.
So, when I was contacted last May about promoting the CS5.5 launch with a contest, I heartily accepted. (and trust me, I reject a lot of promotion offers)
Another reason I love working with Adobe is because they work with Ivy Worldwide. Ivy is the bridge between the big companies like Adobe (and Sony, whom I've also worked with before), and the small bloggers like me. They do what other PR firms don't – they actually listen to what bloggers want to do and connect us more intimately with the brands that want us to advertise for them.
By contrast, standard PR firms just blast the same 47-paragraph, buzzword-laden email to 1,000 bloggers and hope a few will write a post about whatever they're pitching. For the record (if you're working in PR, or want to, and are reading this), I hate this. All bloggers do. Most of us delete these types of emails in disgust.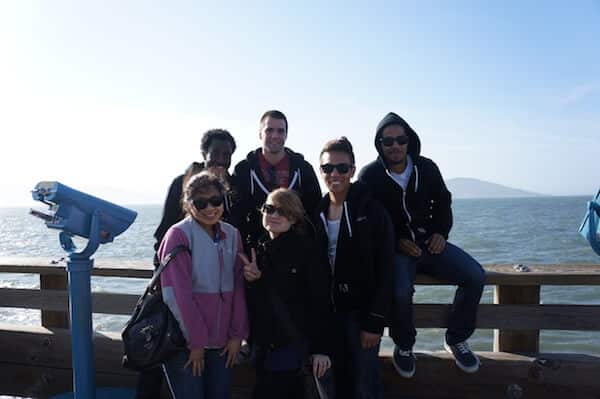 Anyway, enough ranting about standard PR. As I said, Ivy does a really good job of listening to what the bloggers think will work best. As a result, I've been able to come up with my own custom-tailored pitches for campaigns that I know my readers (you guys) will respond best to. Usually they involve contests, because we all love free stuff 😛
With Adobe, though, we decided to take the relationship a bit further than just blog posts and contests. Last October, I got to fly out and meet some Adobe employees in person at Adobe MAX. I also got to experience the conference and get a sneak peak at upcoming Creative Suite features.
That was the first time I'd ever travelled for my blog, and I'm pretty sure it was the first moment where I thought, "Holy shit, I'm a professional blogger."
So, onto Adobe Days. After Adobe MAX, we started playing with the idea of bringing student bloggers out to San Francisco to meet with more of the Adobe team. Even though lots of student-focused blogs work with Adobe, I had been the only one to go out to MAX and actually meet them (Jeff Dunn from Edudemic covered the educator side of the blogosphere).
Ivy wanted to get other student bloggers involved, and so Adobe Days was born. What followed was an awesome two-day conference where we got to meet Adobe team members and other student bloggers, give our input on the products and campaigns Adobe is planning on rolling out, learn a thing or two about CS6 and some other topics, and tour around San Fran.
Before I get into all that went down, I'd like to introduce you to a few people!
The Fellowship of the Blogs
These are some of the other bloggers who attended Adobe Days. Each one does things a little differently, so there's something here for every student. If my sarcasm-laden, in-depth posts about travel, personal branding, and whatever other crap I've been publishing aren't enough for you, I'm sure you'll find something to like here.
Bobby Adamson is one of the newest college bloggers on the block, but I already love his blog. Bobby is a student at Mizzou (which means he goes to school with my good friends Bud Hennekes and Jeff Bajayo) and he's also a freelance graphic/web designer.
You can definitely tell that Bobby's got an eye for design by looking at The Student Hustle, his blog. Clean and minimalistic, it's got one of the best blog designs I've seen from a student (and trust me, I've seen a lot of blogs).
I absolutely can't wait to see the content that Bobby comes out with in the future. With his background in design and web development, I'm sure he'll have a lot to offer students when it comes to personal branding!
If there's a personification for the term "ridiculously ambitious blogger", I'd say it's Max. Max has been the driving force behind Bright Futura for almost a year now, and I can see that it's going to be one of the top college blogs in the near future.
With a creative design and lots of innovative series, Bright Futura does things a little differently. Unlike me, Max has built a team and seems to be building a lot of synergy among it. He's also raised the bar by coming out with Bright Futura swag, including t-shirts and sunglasses. This is something I have yet to do, and it makes me a tad jealous and a helluva lot motivated.
Greg is striving to build a "Wikipedia for college students" with Honest College, and he's doing a great job so far. Greg's angle on the college blogosphere is to allow every student to become a writer and share their knowledge with others.
I also learned that Greg is really into skateboarding, which I love as well. I'll have to head up to New York sometime soon and bring my board.
After I learned that Lauryn basically runs an anime convention, loves Sherlock, Korra, and basically every show that I like, wants to be a writer, and eats paleo, I pretty much decided that she's the coolest girl ever.
Lauryn came to Adobe Days to officially represent Talk Nerdy 2 Me, the blog of The National Society of Collegiate Scholars (one of the few honors societies that I actually recommend joining). Talk Nerdy 2 Me is a great college blog, and I've known Leah – the lady who up until recently ran it – for over a year now.
However, Lauryn also has a couple blogs of her own which are just as interesting. You can check out her personal blog to see her thoughts on life and college and stuff, or check out her new travel blog to get a more focused view of her journeys.
Ah, HackCollege. Before I started College Info Geek, I applied to be a writer at this blog, which is basically the granddaddy of college blogs. That was back when Kelly and Chris were running the show, with their apprentice Shep working alongside them.
As a completely student-run blog, HackCollege has now changed hands. Kelly, Chris, and Shep are all now out of college (though Shep still makes time to chat with me, the still-naive student). Now, Sarah is the editor, managing a new team of writers.
HackCollege doesn't really have a specific focus; it offers up tips and tricks relating to almost every aspect of student life.
Mustafah, Lauryn, and I seemed like the biggest anime nerds at Adobe Days, so I spent a good deal of time discussing my favorite shows with him. As a result, I've decided that he gets the ranking of: pretty cool guy who doesn't afraid of anything. 
Mustafah is part of the team over at Surviving College, which also publishes content on a wide variety of student-focused topics.
There were a lot of other bloggers at Adobe Days who I didn't have as much time to hang out with, but their blogs are worth checking out all the same. They include:
It's amazing how much in common I have with a lot of these people. Turns out, bloggers are usually geeks too!
Lauryn, Mustafah, and I all share a love of Sherlock and Legend of Korra, among other anime. Bobby is a pretty good DDR player (though the competitive side of me has to come out and say not good enough), and Greg is even more into skateboarding than I am. Instead of just being fellow bloggers, this event made us good friends as well.
What We Did
Adobe set up and amazing itinerary for us when we got to San Francisco. After checking into the (quite ritzy) Hotel Palomar, we started off the conference with a wine mixer (though, sadly, not the Catalina Wine Mixer). Lauryn, Sarah, and I were the three babies of the group, so it was just a mixer for us. Still, it was a great introduction.
The next day started off the real conference. We headed to Adobe's HQ/Super Secret Base of Covert Operations/Mission Control Defcon Alpha Station, which is an underwater bunker located directly beneath the Golden Gate Bridge. This photo is used as an internet cover-up: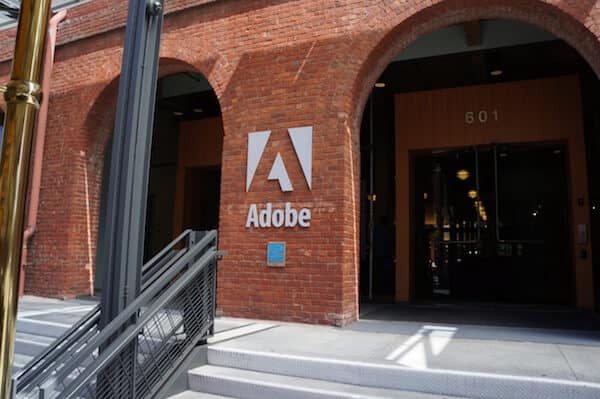 During our time at Adobe HQ, we got to meet some of the educational marketing team that I've been working with so long. We also were able to meet some of the engineers who actually work on the Creative Suite when they came in to teach sessions.
Speaking of the sessions, most of them were quite useful! We learned a ton of new things, including:
A bunch about the new features of Photoshop CS6 (I'm especially in love with the updates to the Crop tool)
How to create a t-shirt design with Photoshop
A bunch of SEO (search engine optimization) tips for making blogs more findable
How to use Premier to make awesome video content
While I knew a fair amount about what was presented, I still learned a lot and appreciated the material, especially since some of the other bloggers were able to learn a lot more.
Aside from learning technical skills, we were given some great career and personal branding advice by Adobe employees as well as consultants working for them.
"Do shit and make sure it affects someone positively." – my takeaway from said career/personal branding presentations
As you know, personal branding is a huge topic here at College Info Geek – in fact, it's probably my main focus when it comes to helping you succeed. Ever since MAX ended, I've been working with Adobe on what their student promotion should focus on, and the topic I constantly cite as #1 is personal branding. 
It seems they agree, because that's what they're focusing on most this year. As a result, we got to learn from some really successful people during Adobe Days.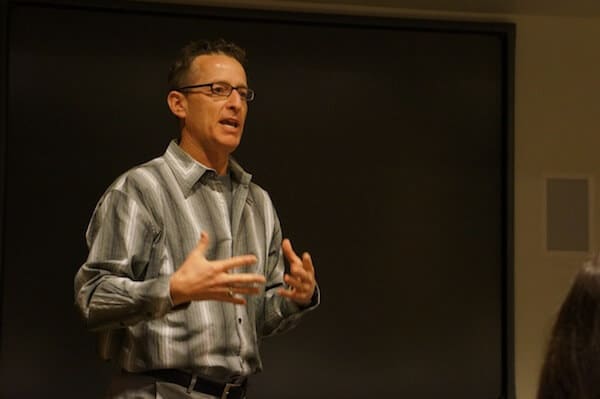 We were also able to provide feedback from a student perspective regarding CS6 and the Creative Cloud. It was great to be able to give my opinion on the new student offerings in person, and it's really nice to know they take our opinions a lot more seriously than other companies do.
Now, going to sessions and giving feedback is great, but no trip to San Francisco would be complete without…
Exploring San Francisco
Luckily, Adobe hooked us up with a trolley car to tour the city. We also met up with Xavier Lanier, the owner of Notebooks.com and GottaBeMobile.com, who directed the tour and gave us some photography tips.
The trolley took us all around town, making a long stop at the Golden Gate Bridge so we could get some photos (the feature photo for this article was, of course, taken there).
However, further exploration of San Francisco was needed! So Max, Lauryn, Bobby, Sarah, Mustafah, and I all got together after the conference was over and walked around the city. We got bubble tea and souvenirs in Chinatown, raced up the super-curvy Lombard Street, and hung out at the famous Pier 39. Oh, and of course there was DDR.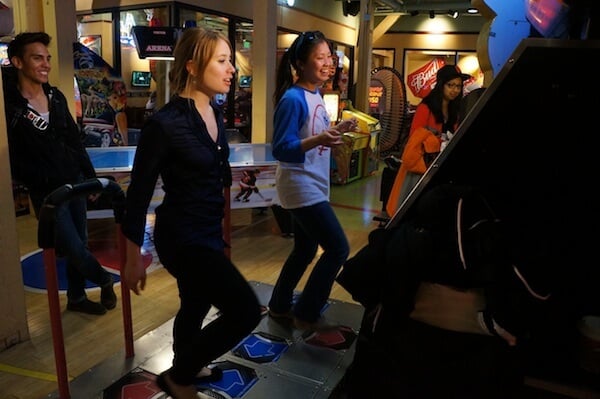 Thanks to the amazingness of my new camera, I took a lot of photos – way too many to post here. However, since my Facebook is probably the most un-private profile ever, you can check out all of them at my San Francisco album.
Overall, Adobe Days was an unforgettable trip. I got to visit San Francisco for the first time ever – something I've wanted to do for a really long time – and I also met a group of people who I became instant friends with.
Maybe it was the circumstances, maybe it was our common interests or generally outgoing natures (I mean, we basically publish our lives for the world to see), but I don't think I've ever became such good friends with a group of people this quickly.
Even though I'm having a lot of fun in Japan right now, I still miss the few days we all spent together. Luckily, I'll get to see Mustafah and Max again at Blogworld next week! For the rest, I'll be saving my plane ticket money 🙂