Are you ready for this? Seriously, ARE YOU MUTHA EFFIN' READY FOR THIS?!?!?
Yeah, I named the non-study music series. It's called ENERGETIC ALBUM OF THE WEEK. This series will feature music that will PUNCH YOU IN THE SPLEEN. Music that will MELT YOUR FACE OFF. Wicked basslines, soaring guitar solos, amazing vocals – anything that you probably wouldn't study to will be here in the series (MAKING YOUR GRANDPARENTS CRY). So yeah. I feel like getting really excited can make up for the lack of an original name. Think you can do any better?
For this week's energetic album, I'm revisiting one of my favorite spring releases – Halestorm's "ReAniMate: The CoVeRs eP" (yeah, the weird capitalization is intentional). Halestorm is a band from Pennsylvania, and they'd probably sound like every other run-of-the-mill rock band out there if not for their ace-in-the-hole: Lzzy Hale. This girl (yes the name is spelled right) has some serious pipes, and is probably the best female singer in rock right now. Hayley Williams of Paramore pretty much pales in comparison.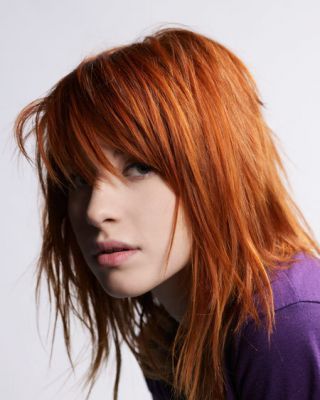 Seriously though, Lzzy Hale has one damn amazing voice. It's got this raw quality that goes perfectly with the knuckles-meet-face style of music featured on most of "ReAniMate", yet it's also capable of spanning a very wide range. Hale can sing pretty low for a girl if she wants, but she can also hit some highs that'll give your spine the tingly winglies.
So, before I spend too much time writing about my Lzzy Hale fanboy-ism, let's move on to the actual album. It consists of a mere six covers, each from a different band.
By far the most high-energy covers on the album are "Slave to the Grind" (Skid Row cover) and "Out Ta Get Me" (Guns N' Roses). Now, I'm not really one that listens to too much material from either of those bands, but I'd say Halestorm pulls off the covers quite well. Lzzy's voice has a very raw sound in these two tracks, and the rest of the band play quite well. Wait a minute – who says quite well in a rock review. Screw that; they KICK ASS AND SHRED YOUR NIPPLES OFF.
Anyway, the covers of Heart's "All I Wanna Do is Make Love to You" and The Beatles' "I Want You (She's so Heavy)" are also pretty good. Both of these are a little more low-key than the previous two tracks I talked up, but they're still really fun to listen to. The cover of Temple of the Dog's "Hunger Strike" isn't quite a great, but it isn't terrible by any means.
There's also a cover of Lady Gaga's "Bad Romance" here – while it isn't terrible, I will admit that there are far better covers out there like this one and this one. Still, I'm glad they're having fun and playing whatever they want.
So, with this album you get four stellar tracks, one that's OK, and one that's really going to depend on how much Gaga you need on a daily basis. Check out the tracks in the playlist, and grab the album over at Amazon!