Update for February 2013:
You may have received an email from the Direct Loan Servicing Center about your loan being transferred to Sallie Mae. Don't worry – this email is legit. (assuming the sender's domain is correct – see screenshot below)
My own student loan was transferred at the beginning of this month (Feb. 2013), and I received the email. I called the Department of Education personally to verify that the email came from them, and they affirmed it.
For reference, here is a screenshot of the email I received: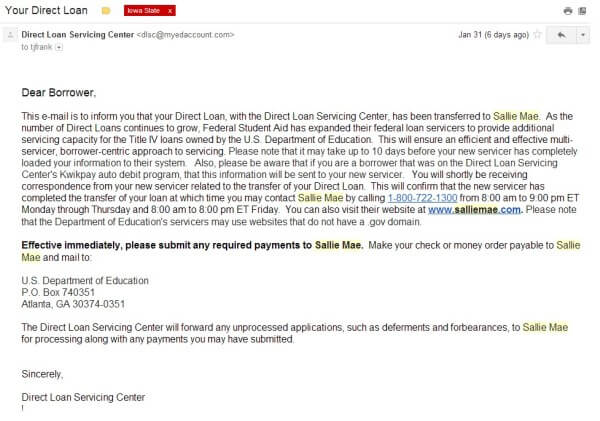 If you have any specific questions, feel free to leave a comment on this post and I'll get back to you.
—————–
Original Aug. 2011 article:
Correction: If you viewed this post in the past, you probably saw that I had posted a specific email that I previously believed to be a scam. The email referred to a change in the way that the government is handling Direct Loan processing. It turns out the email was indeed not a scam, though it was a very poor and sloppily executed message that looked a lot like one.
Just for clarification, the federal government will indeed be changing the borrower website to myedaccount.com. You can view the official announcement for the change here.
Message to the Direct Loans office: You suck at notifications. Get better at it. Here are just a couple reasons why your email was absolutely terrible:
MyEdAccount.com doesn't even have a "coming soon" message on it or anything. If you're going to tell people about it, you better damn well have some sort of message up until the site launches. Any 12-year old kid playing with HTML would know that.
Send the email from the domain people are familiar with. Sending the email from the new domain (which, again, we can't even visit) REEKS of scam. How are you this stupid?
Thanks to some of the commenters down below for pointing this out to me. If you've gotten this email, I'll repeat that it is legit. It just sucks.
Update 10/18: Looks like I'm not the only one who's pissed. Check out this article at The Consumerist (and the comments) as well as the reactions going around Twitter to see just how epic the Dept. of Education's failure with this transition is.
Update 10/26: I'm still following this situation, so if you'd like to stay updated, you can follow me on Twitter and I'll keep you informed.
Alright, back to the article. Here are some ways you can spot and avoid email scams:
Pay Attention to the Sender
Make sure to always look at who sent you an email. Scammers are getting more and more sneaky every day, and more often than not, the emails they send will look legit. However, they're going to have a pretty hard time sending you an email from the actual domain name they're trying to trick you with.
If you get an email about direct loans, make sure it's from dl.ed.gov. If it's about PayPal, make sure the email's from paypal.com. Always take a good look at the email address; there are several things scammers do to make the URL look legit:
Some URL's look very similar to the legit one. For example, you could see paypall.com – this is a common misspelling, and you probably wouldn't catch it with a casual glance. People who use common misspellings are called typo squatters,  and people fall victim to them all the time. Don't be one of them.
Scammers will sometimes create subdomains with the names of real websites. For example, you might see something like paypal.herpderp.com – a subdomain can be named anything the scammer wants it to be. Once again – if you just give the URL a quick once-over, you may see "paypal" and skip over the rest. Be careful.
Be Wary of Links in Emails
Just as you need to be careful to check the domain of the sender's email, be very careful to check links in the body of the email. In particular, be wary of shortened links – you know, stuff from bit.ly, tinyurl.com, and other sites. If you find a shortened link in an email and you're just too curious to let it go straight to the trash bin, use Where Does This Link Go to expand the link so you can see the actual URL. You may want to bookmark it for quick reference.
Maintain a Healthy Pessimist's Attitude
You're not going to get free money from Nigeria, you can't become a mystery shopper overnight and get free stuff from all your favorite stores, and you can't make $8,000 a month filling out surveys online. Maintain a skeptical attitude when looking at your email – if something seems to good to be true, then that something was created by someone who wouldn't think twice about dumping you on the side of the road and selling your dog for crack money.
Check out these resources for more info:
Have you ever been duped? Share your tips in the comments and help put scammers where they belong – still in their mom's basement.