Back in June of last year, I posted an article where I detailed my system for time and task management. On the mobile front, I was using an app for my iPod Touch called Pocket Informant. Pocket Informant allowed my to bring together my Google Calendar and Toodledo accounts, viewing and managing them in one convenient package. The app worked well for a while, but I was always bugged by, well, bugs that it had. For example, the app would frequently lock up and tell me that my Google account password was wrong, or that it couldn't sync for some other reason.  I made do with it for a while, but eventually I noticed my productivity was taking a hit because I was reluctant to use it. So, in honor of the new year and a new semester, I went looking for something better.
What I found isn't a single app. Eventually, I realized there wasn't really an all-in-one solution that merged Google Calendar and Toodledo as well as I would have hoped. So I took the "divide-and-conquer" approach, and started looking for an app for each account.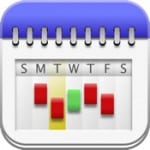 CalenGoo was the first search result in the App Store for "Google Calendar", and after trying it, I didn't need to search anymore. The app is fantastic. For one, it syncs much faster and more reliably than Pocket Informant ever did. It seems to keep the color coding of my different calendars as well, instead of changing some of them like Pocket Informant did. The app features multiple views, and each view is a little different depending on the orientation. My favorite view is the "List" view in portrait orientation; this view has the most readable text and also displays the location of each event, which is especially helpful for class schedules. Just like iCal and Pocket Informant, CalenGoo supports push notifications, though you can easily turn them off in the app's settings. Additionally, you can set the app to give audible reminders every minute. If you do use Google Calendar's Tasks function, you could actually use this app for everything. However, if you're a fan of Toodledo like me, read on.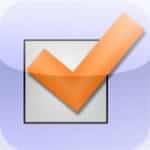 For task management, I found that Toodledo's own app is the best tool for the job. It's a lot simpler than Pocket Informant's take on task management, which seeks to integrate GTD concepts into its interface. Since the Toodledo app uses no other task management approach other than that of its parent site, the interface here is much cleaner and easier to use. The Toodledo app features plenty of settings you can change, such as showing more details in your task list, locking portrait orientation, and changing the font size.
Together, CalenGoo and Toodledo make a great combo for getting things done on the go if you have an iDevice. Unfortunately, neither of them is available for Android. Here's to hoping they'll hit that platform in the future.
Got a great time management app we haven't heard of? Leave us a comment!