This post is sponsored by Vonage.
Last week, I posted a quick overview of the new Vonage Mobile calling app. After having some time to test it, I'd like to share my impressions!
I'm going to put it right out there up front: Vonage Mobile is a great app. I'm a long-time Skype user, and I've made use of their iPhone app from time to time, but for regular (non-video) phone calls and messaging, I definitely prefer Vonage Mobile. The interface is more similar to my standard iPhone communication apps, so I feel a lot more at home using it. I also really like how the app integrates my entire contact list, but also gives me the option of only viewing the contacts that also use Vonage Mobile.
The meat and potatoes of this post is a video review, so I'll let my pre-recorded self take over from here.
Slight correction – it's 3 cents a minute in Japan, but only for calling landlines. Calling other cell phones (that aren't using Vonage Mobile) is 13 cents a minute. I'm not too concerned about this though, because I imagine the only people I'll be calling will be my travelling companions – who will also have the app – and businesses, which usually have landlines.
Here's a full price rate breakdown: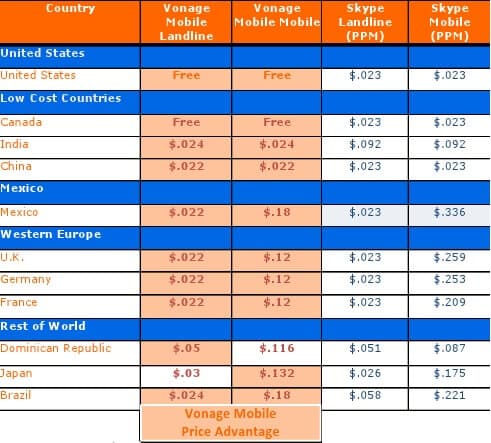 So, if you're looking for a good calling app, check out Vonage Mobile. Peace.