What a year, eh? I've always been fond of years that end in the number 3. In fact, this is my 3rd one! You know that that means? Half-Life 3 confirmed.
Anyway, since this entire post is basically a conclusion in itself, it doesn't need much of an introduction, now does it? (That's my way of saying I can't be arsed to write one)
With that in mind, let's get onto…
The Best Posts of 2013
By my beard count, I published a grand total of 60 articles during the course of this year. 17 of these were podcast episodes (which I'll get to in the next section), making the plain-text count 43. I'm good at math.
Here are some of my favorites!
We explored the importance of goal-setting and planning for life after college:
Some great practical guides were made:
And of course, I spent time doing one of my favorite things… making lists.
Getting on the Mic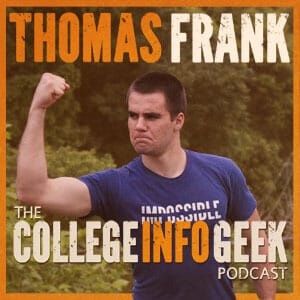 I also completed one of my biggest goals for this blog during 2013, which was to start a podcast! I actually can't believe how great of a decision this turned out to be.
The CIG podcast was featured in the "New and Noteworthy" section of iTunes for several weeks, and a lot of you have told me you really love the audio format. Don't worry, there's plenty more to come.
After I produced the first episode, I set a goal to do at least one podcast episode per month. I can proudly say I accomplished that goal this year as well! Here are some of my favorite episodes, including interviews with some of my personal heroes:
You can see all the episodes over at the podcast page. You'll also find a link to iTunes, as well as a link to my Q&A page where you can leave a question and potentially have it answered on the show!
Other 2013 Goings-On
On a personal note, 2013 was a pretty crazy year for me. The main reason for this was that I finally graduated from college. 
Interestingly, I didn't write a post about graduation. In fact, the actual graduating part of it all didn't seem like a huge deal – sure, I got to walk across the stage, shake hands with deans and the university president, and annoy my mom by striking this pose for my grad picture: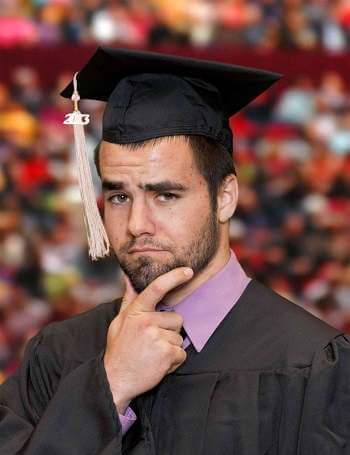 However, the biggest shock came later on, with the realization that I am done with formal education. 
Because I'm a Bayesian, and thus try to make statements based on probability, I can't say that I'll never go to grad school. However, I currently have no plans to do so.
This means that life is basically a blank slate going forward. No curriculum, no programs, no plans set forth by other people. I define what I do from this point on 100%.
Being an solo entrepreneur definitely amplifies the feeling, but even without that fact, it's still weird knowing I'm completely done with all those formative, school-y years.
Of course, the whole point of this site is to help students make the most out of college so that life after college can be awesome, and that certainly applies to my own life as well. I'm stoked about what comes next, and can't wait to add more to my ever-growing Impossible List.
Speaking of impossible things, I achieved one of my greatest goals this year as well: paying off all my debt. I've linked to my post about this goal above, so I'll just summarize my thoughts here:
Being debt-free is fucking amazing and should be a top priority for everyone. Knowing you owe nothing gives you a sense of freedom that is hard to imagine when you've got debt.
Paying off debt is not as impossible as many think. Finding ways to increase your income and decrease your expenses can really expedite the payoff process.
A lot of student debt is avoidable. Much of 2014 will be dedicated to educating students on this, because this debt crisis is crazy and needs fixing.
On the other side of the financial coin, I have recently been reminded once more of the horrors of… taxes. Though I made sure to keep money saved for them, they're still going to hit pretty hard.
A word of advice for those of you with entrepreneurial aspirations: Taxes are much scarier when you're not working for someone else who deals with them for you. Be prepared.
More happily, in October I celebrated one year of being with my beautiful girlfriend Anna!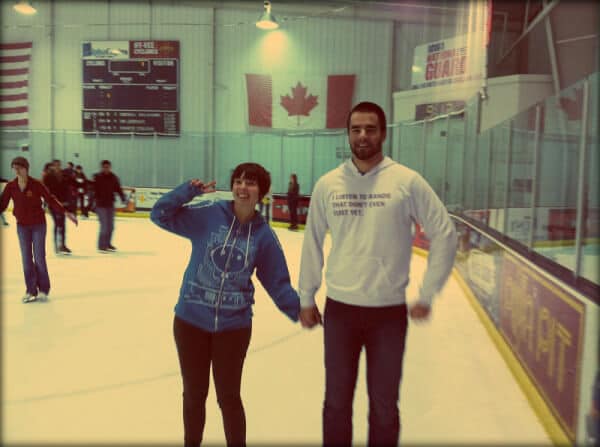 I also added more things to my mental list of reasons why she is the best girlfriend ever, including:
She participated in our backwards inside-out shirt day without hesitation
I have convinced her to play Magic: the Gathering with my friends and me
She goes to the gym with me and actually lifts weights (even though, since she's a girl, touching weights instantly turned her into a muscle-bound freak with chest hair thicker than our carpet – damn, shoulda listened to Gwyneth Paltrow's personal trainer)
On the travel front, 2013 was a pretty eventful year. In February, I flew to Austin, TX and joined my friend Alex Mangini at the first Finish Up Weekend conference. Much awesome work was done there, and I met some great new friends as well.
In May, I once again traveled to Japan. Among other things, we explored caves, went to a volcano, ate lots of 焼き肉 and すし, and met this guy: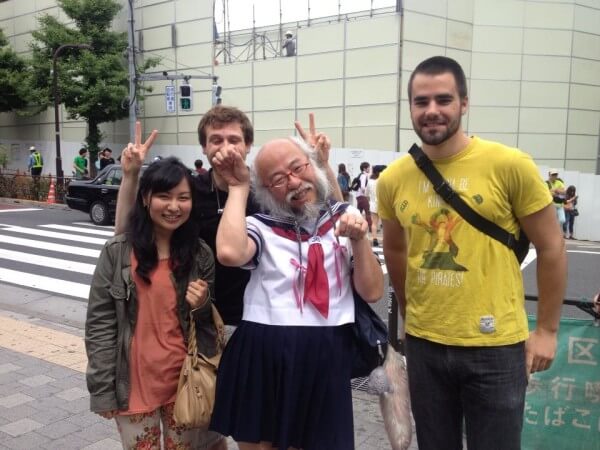 Japan Trip #2 pics, if you're interested.
Other trips included Florida, Wisconsin (a spring break trip featuring lots and lots of snow), Minneapolis, and a second trip to Austin.
I also got back into reading actual books this year. I'm tracking my progress here. If I can make two fiction suggestions for those of you looking for new books, definitely check out Harry Potter and the Methods of Rationality and The Name of the Wind.
Other notable things happened this year, but I'll end the personal drivel here!
Onward!
Ah yes, due to this arbitrary date change I am feeling the fire of renewed vigor and motivation!
This unprecedented point in our numerical tracking of Earth's displacement around the Sun has filled me with a sense of purpose hitherto unfelt!
I'm not sure what 2014 will bring, but I do have some grand plans for the upcoming year:
I'm writing a book! Expect more on this soon 🙂
More podcast interviews are on their way. I've got a big list of guests I'm dying to talk to, so you can anticipate plenty of new episodes.
Music reviews are coming back! Setting one day of week as Study Music day really helped keep my writing schedule consistent in the past, so it's coming back.
I really want to start speaking more in 2014, so I'll be putting considerable effort into traveling and securing gigs.
That's it for me! (until I get a new idea for something).
Tell me – what's in store for you in 2014? What goals are you going to accomplish?